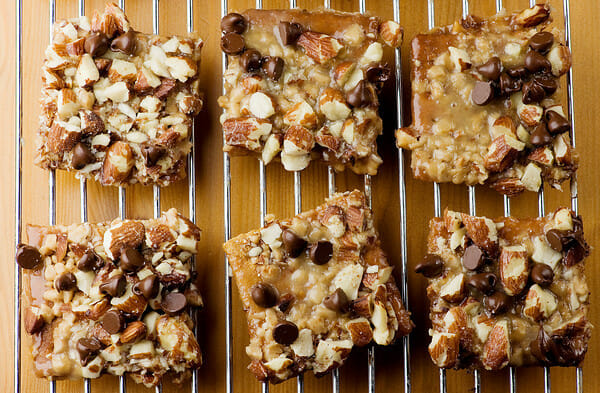 These quick little babies are a cross between cookie and candy, and are a close cousin to the cookie brittle I made over the holidays. Both of them involve taking a layer of crackers, laying them out in a single layer on a cookie sheets, spreading them with a variety of sweet and sinful stuff, baking them, and standing back, because there is an immediate stampede to the kitchen.
Now, my single best piece of advice on both of these recipes is this: Reynolds Non-Stick Foil. That stuff has changed my life, sticky-cooking-stuff-wise, almost as much as my Silpats have. Layer your baking pan with a sheet of that stuff and your sticking worries are over forever.
Once you have your foil down, put a single layer of graham crackers down. Sprinkle them with toffee bits (you can find these in your supermarket next to the chocolate chips, usually the Heath brand), and then with the chopped nuts of your choice. I like chopped almonds for this one but that's just me — go for whatever you like. I'm going to try macadamia nuts next. don'tworry if some of the nuts and toffee fall off to the sides — this is all going to melt into a glorious mess anyway.
Next you make a super-simple syrup of melted butter and sugar and pour it over the graham crackers. Pop it into the over until it bubbles, take it out and sprinkle chocolate chips and just a teeny bit of coarse salt on the top. Trust me on the salt thing — it is what turns this recipe from great to mind-blowing. Let the thing cool until it is just cooled enough to handle but not hardened yet, and then grab your handy pizza cutter and a spatula. It will be a little hard to see the edges of the graham crackers amid all the fabulous topping, but do your best to cut around the edges of each square, and then lift each one out with a spatula and put it on a cooling rack.
Here is the most important step. Try one when they are still warm, and then try another when they are cooled. It's important for the serious cook to be able to form an opinion about which is better. I am still testing them, myself, just to be totally sure.

Salted Toffee Chocolate Squares, adapted from Everyday Food
Print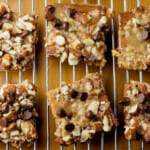 Salted Toffee Chocolate Squares
---
Ingredients
12 graham crackers broken into squares
1 8 oz bag toffee pieces (found in the baking aisle)
1 1/2 cups roasted, salted almonds, roughly chopped
1 cup unsalted butter
1/2 cup granulated sugar
3/4 cup semi-sweet chocolate chips
3/4 tsp sea salt
---
Instructions
Set the oven rack in the middle of the oven and preheat to 350 degrees. Line a rimmed baking sheet with non-stick foil.
Lay the graham crackers on the baking sheet, touching each other. Sprinkle the toffee pieces and the chopped almonds evenly over the crackers. Set aside.
Combine the sugar and butter in a small saucepan and cook over medium-high heat, stirring occasionally. Bring the mixture to a boil and then reduce the heat to medium-low. Simmer for a few minutes, until the mixture has the consistency of a syrup. Remove from heat and pour over the graham crackers, trying to soak all of them.
Bake for about 12 minutes until the top is bubbly. Remove and immediately sprinkle with the chocolate chips and sea salt. Let cool for about 10 minutes, and then use a pizza cutter to cut into 2 inch squares. Transfer the squares to a cooling rack.