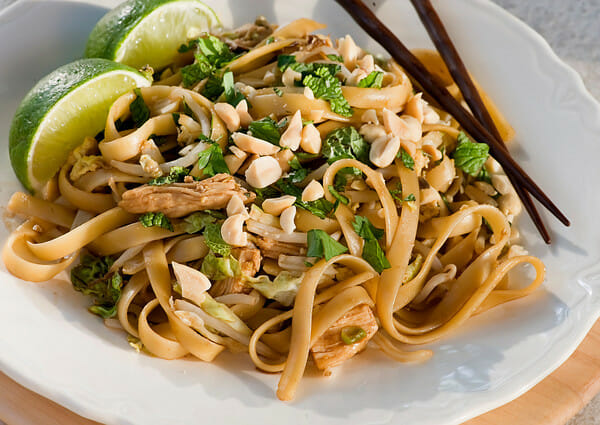 This is most definitely the suburban New Jersey version of pad thai, and I say that with pride. Let me explain.
A couple of weeks ago the New York Times ran an article, complete with recipe, for pad thai. My friend S sent it to me first, followed by about a thousand or so other folks. Who knew pad thai was so popular? I've had it a couple of times in the past and had always figured it fell into the chicken-fried steak rule (click here for an explanation of that weird little reference), but I am a girl who loves a challenge, and so I put it on the menu for last week.
And then I looked at the ingredients.
Tamarind paste?
Mom!!!
(Between my mother and Fairway, I really don't have a decent excuse for not coming up with the accurate ingredients for things.)
Tamarind paste, for those of you who are wondering, is a thick, smooth paste that looks a lot like a solidified version of soy sauce, and it's definitely key to the flavor of this dish, so if you are going to mess with the ingredient list of this recipe as much as I did, just make sure you stay true to the tamarind paste. If your supermarket doesn't have it, you can look in an Indian speciality grocery, and if you don't have one of those around, there is always Amazon. Click here. Yep, in addition to TO KILL A MOCKINGBIRD, they also sell tamarind paste. Or you can call me — I now have a giant jar of it.
So while I did use tamarind paste I took, um, liberties with the rest of it, starting with the noodles. You are SUPPOSED to use something called rice stick noodles, and I'm sure Amazon carries those too, but I have an endless supply of fettecine in my pantry, and it tasted just fine. Then we have the issue of the cilantro. I was relieved to read this article, also in the Times, saying that the reason that certain people (me!) have an aversion to cilantro is because of their specific neurological make-up. As soon as they figure out the same thing for eggplant, mushrooms and lima beans my mother and I are going to have a nice little conversation. ("Try them. If you eat them enough, you will like them!) So I took my usual approach to cilantro, which is to mix up a combo of chopped mint and chopped flat-leaf parsley. Transgression #2.
The third thing was not exactly my fault, and kind of stayed within the boundaries of the recipe. It called for shrimp or tofu, and I did ask the southern husband to defrost some of my wonderful Costco shrimp that morning, but he has a lot on his mind and I came home to non-defrosted shrimp. Oops. But I did have some grilled chicken in the fridge and that worked just fine.
So as I said — suburban NJ Pad Thai, and I am sure I have broken a whole variety of pad thai rules, but it sure tasted good!
Pad Thai, adapted from The New York Tmes 
Print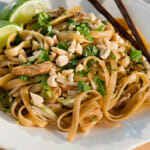 Pad Thai
---
Ingredients
4 ounces fettuccine-width rice stick noodles (or fettecine!)
1/4 cup peanut oil
2 to 4 tablespoons tamarind paste
1/4 cup fish sauce (nam pla)
1/3 cup honey
2 tablespoons rice vinegar
1/2 teaspoon red pepper flakes, or to taste
1/4 cup chopped scallions
1 garlic clove, minced
2 eggs
1 small head Napa cabbage, shredded (about 4 cups)
1 cup mung bean sprouts
1/2 pound peeled shrimp, pressed tofu (or shredded cooked chicken!)
1/2 cup roasted peanuts, chopped
1/4 cup chopped fresh cilantro (or chopped mint and flat leaf parsley!)
2 limes, quartered.
---
Instructions
Put noodles in a large bowl and add boiling water to cover. Let sit until noodles are just tender; check every 5 minutes or so to make sure they do not get too soft. (Or if using fettecine, cook according to package directions.) Drain, drizzle with one tablespoon peanut oil to keep from sticking and set aside. Meanwhile, put tamarind paste, fish sauce, honey and vinegar in a small saucepan over medium-low heat and bring just to a simmer. Stir in red pepper flakes and set aside.
Put remaining 3 tablespoons oil in a large skillet over medium-high heat; when oil shimmers, add scallions and garlic and cook for about a minute. Add eggs to pan; once they begin to set, scramble them until just done. Add cabbage and bean sprouts and continue to cook until cabbage begins to wilt, then add shrimp or tofu (or chicken).
When shrimp begin to turn pink and tofu begins to brown (or chicken is heated through), add drained noodles to pan along with sauce. Toss everything together to coat with tamarind sauce and combine well. When noodles are warmed through, serve, sprinkling each dish with peanuts and garnishing with cilantro (or parsley/mint) and lime wedges.