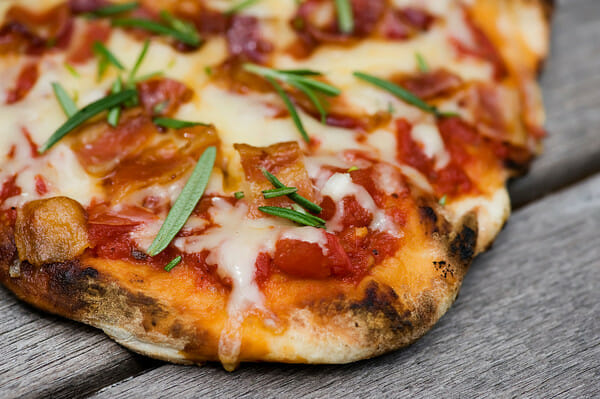 Heirloom Tomato Sauce (recipe below)
One batch pizza dough (recipe below)
1 12 ounce package bacon, cooked and chopped
1 shallot, chopped
8 ounces shredded fontina cheese
Fresh rosemary for garnish
2 tablespoons olive oil
2 cloves minced garlic
2 large shallots, minced
1 tablespoon oregano
½ table dried basil
6 heirloom tomatoes, seeded and diced
1 28 ounce can crushed tomatoes
3 tablespoons tomato paste
3 teaspoons sugar
1 teaspoon salt
1 teaspoon pepper
2 tablespoons olive oil
1 cup water at room temperature
2 cups bread flour
2 teaspoons sugar
1 teaspoon salt
1 teaspoon instant yeast
1. Mix water and oil.
2. Add bread flour, sugar, salt and yeast to food processor. Pulse once or twice to mix.
3. While running, add water mixture through tube. Process until dough forms a ball that clears the sides of the bowl. If dough doesn't form a ball, add more flour one tablespoon at a time until it does.
4. Transfer dough to mixing bowl sprayed with olive oil. Cover and let rise for 2 hours.
1. Heat oil in large pot over medium heat. Add garlic and shallots and cook until soft, about 3-5 minutes.
2. Stir in oregano and basil, stir, and add diced tomatoes, crushed tomatoes, tomato paste, sugar, salt and pepper.
3. Simmer 20 minutes. Makes about 5 cups.
1. Divide dough into 4 sections. Roll into balls, dust with flour, and roll each one out to about a 6-8 inch size crust. Don't worry if the shape isn't perfect, grilled pizza is supposed to look rustic! Layer crusts in between wax paper.
2. Heat grill to medium high and lay crusts on grill. Grill for about 5 minutes, lifting up to check every minute to make sure the crusts aren't cooking too fast. Pop any big dough bubbles with a knife.
3. Remove crusts and turn over so grilled side is UP. Spread about ¼ to ⅓ cup sauce on each crust, sprinkle with fontina cheese, and then shallots, and then bacon. Return to grill, put cover down, and grill until cheese is melted and bottom of crust is browned.
4. Remove from grill, sprinkle with rosemary and cut into sections. Makes 4 personal sized pizzas.
Adapted from Taste of the South [3]