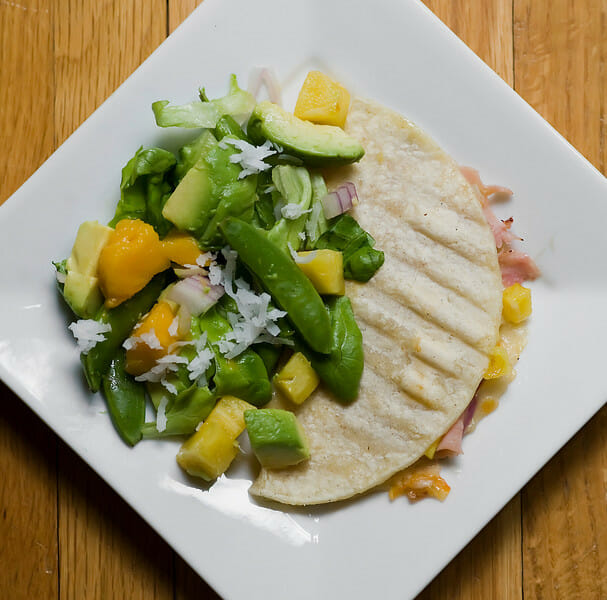 Okay, so I admit it, I am a Type A, compulsive, inflexibly organized person. It's the only way I can keep the various parts of my life all (mostly!) heading in the right direction, and by parts I mean the care and feeding of one Southern husband, one picky but adorable teenager, one constantly hungry dog, one full-time job, and one obsession with photographing my dinner. In terms of the last one, my usual approach is to plan the menu for the week all in one fell swoop on Saturday morning by spreading cookbooks and clippings and scribbled notes all over the kitchen counter, picking out some good-sounding ones, making a giant list and hitting the local farmer's market and supermarket on Sunday morning. That way I know what I am making when I walk in the door each evening, and all the fixings are already there and waiting for me.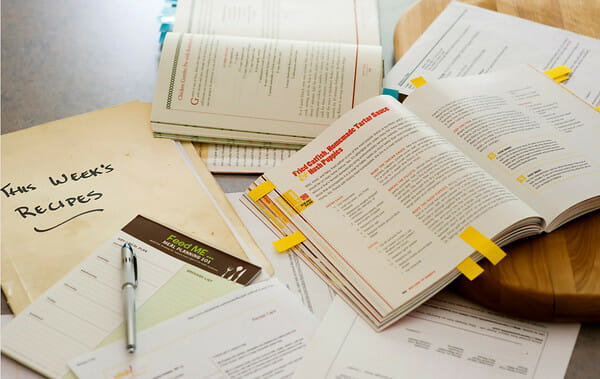 Now, I have gotten more than a little bit of teasing for this over the years, so I felt extremely vindicated when I heard about this new website that pretty much does EXACTLY this same thing, without the added complication of having to collect the recipes.
Relish is a service that collects a great variety of recipes, including lunches, desserts, kid-friendly dishes, vegetarian stuff — you name it. The recipes change up every week, although the old ones are archived so if there is one you love you can go back to it. You pick out the recipes you want to make for the week, and it organizes them into a grocery list for you — all the stuff you need to make them. When you print out the list, it prints out all the recipes too, so at the end you have a weekly menu, a grocery list with all the stuff you need to make everything, and all the recipes. It costs $7 per month, and less if you sign up in increments of 6 months or more.
Gee, what a great, organized IDEA!
The folks at Relish were nice enough to give me a gift voucher to road test this service, and so I took it out for a spin. It worked exactly as described, and the recipes were right at my level — creative but not too fussy or elaborate for weeknight cooking. For example, the dinner pictured above, which is a ham and pineapple quesadilla with a lovely little side salad of sugar snap peas, mango, avocado, coconut and other nice things. (This was one of the things I liked best about Relish — they don't give you the main course and then leave you to your own devices on the side dish. Each meal comes with both.) The recipe was quick and pretty easy, and delish.
So for those of you who don't get your kicks out of figuring out the weekly menu, you might want to give Relish a try. And in the meantime, try out their ham and pineapple quesadillas. I'm going to clean up my kitchen counter now.
Ham and Pineapple Quesadillas, adapted from Relish 
Print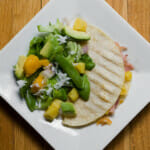 Ham and Pineapple Quesadillas, and Organizing Your Dinner!
---
Ingredients
1/4 cup apricot preserves
2 8 inch whole wheat tortillas
4 slices ham
1 8 ounce can pineapple tidbits, drained
1/2 cup shredded mozzarella cheese
1/4 red onion, thinly sliced
---
Instructions
Spray frying pan with olive oil cooking spray and heat over high heat.
Divide apricot preserves over half of each tortilla. Top evenly with ham, cheese and onions. Fold tortillas in half.
Place tortillas in heated frying pan and reduce heat to meidum high. Cook for 2-3 minutes on each side until cheese is melted and tortilla is golden.
Cut tortilla into wedges and serve.