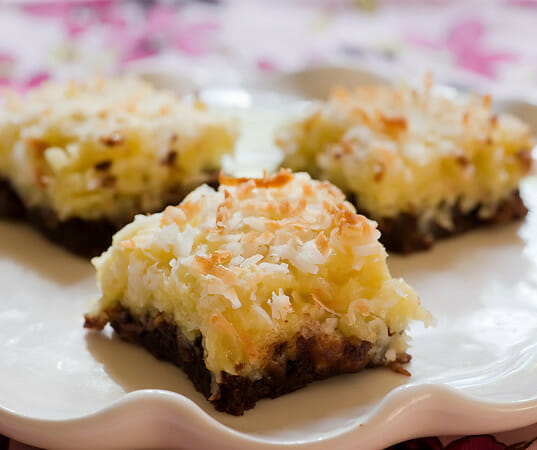 ½ cup unsalted butter, plus more more pan
½ cup granulated sugar
¼ teaspoon salt
1 large egg
¼ cup unsweetened cocoa powder
¼ cup all-purpose flour
2 large eggs
¾ cup granulated sugar
½ teaspoon vanilla extract
1 cup all-purpose flour
7 ounces sweetened, shredded coconut – reserve ½ cup for sprinkling on top
Preheat oven to 375°. Line a 9-inch square baking pan with aluminum foil, leaving an overhang. Butter bottom and sides of foil.
Using a microwave-safe bowl, melt butter in microwave. Whisk in sugar and salt. Whisk in egg, then sugar and flour. Mix until smooth. Spread evenly in prepared pan.
Bake for 10-15 minutes. The sides should be beginning to pull away from the sides of the pan. Set aside to cool.
Whisk eggs with sugar and vanilla. Mix in flour and coconut.
Drop mounds of topping onto chocolate base. Spread and press into base with moistened fingers. Sprinkle with ½ cup coconut.
Bake 25-30 minutes, or until a toothpick inserted in the center comes out with moist crumbs attached. Cool completely in pan. Then, remove from pan using aluminum foil overhang. Peel off foil and cut into bars. Store in an airtight container for 3-4 days.