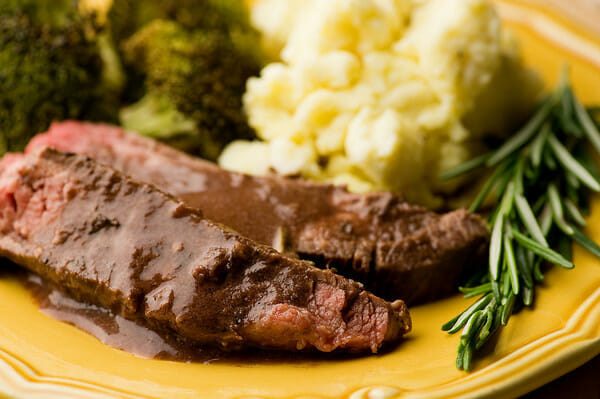 Well, it's now reliably over 50 degrees most days here in the Northeast, and you know what THAT means.
It's GRILLING time.
Not that the resilient and reliable Southern husband won't happily dig the grill out from under a snowbank in the middle of February if I really need him to.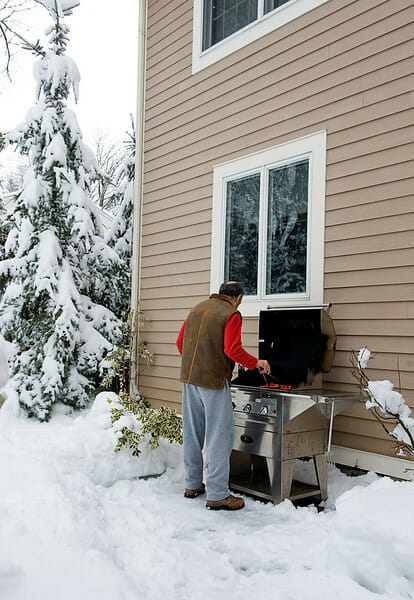 But let's face it, it's a lot more fun when the sun is shining, the birds are singing, the flowers are blooming and you don't have to wear your snow boots. This recipe is the perfect one to kick off grill season, and if you don't count the time I sent him outside in a snowstorm to roast those tomatoes for me, it's the first time the Southern husband has seriously cranked up the grill in 2010.
You need a nice flank steak for this one, and you marinate it for at least 30 minutes in a mixture of chopped onions, beef broth, chopped fresh rosemary, salt, oregano and (here's the beauty part) about a cup of red wine. I love a nice glass of merlot, so that's what my steak got to marinate in.
Once you have the steak on the grill, have someone reliable keep an eye on it while you make the sauce, which is basically a mixture of that marinade you just soaked the steak in, with some tomato paste and Dijon mustard stirred in. Boil it for about 7 minutes until it is reduced to about a cup. When the steak comes off the grill, slice it up and pour some of that sauce over the top, and summer will seem just around the corner.
Rosemary Merlot Flank Steak

Rosemary Merlot Flank Steak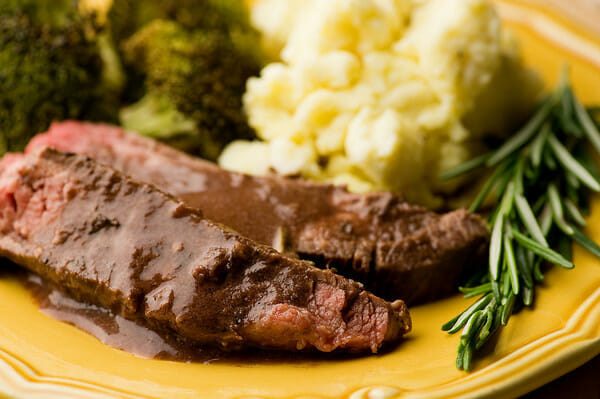 Ingredients
1 cup chopped onion
3/4 cup beef broth
1 cup red wine
2 tablespoons chopped fresh rosemary
1/2 teaspoon salt
1/2 teaspoon pepper
2 minced garlic cloves
1 pound flank steak
1 tablespoon tomato paste
2 teaspoons Dijon mustard
Directions
1. Combine first seven ingredients in plastic bag, add steak and marinate in refrigerator for at least 30 minutes.
2. Remove steak, reserving marinade. Grill steak for 6 minutes on each side or until desired degree of doneness. Let stand 5 minutes and then slice against grain.
3. While steak cooks, combine leftover marinade, tomato paste and mustard in small pot. Bring to a boil and cook until reduced to one cup, about 7 minutes. Serve sauce over steak.