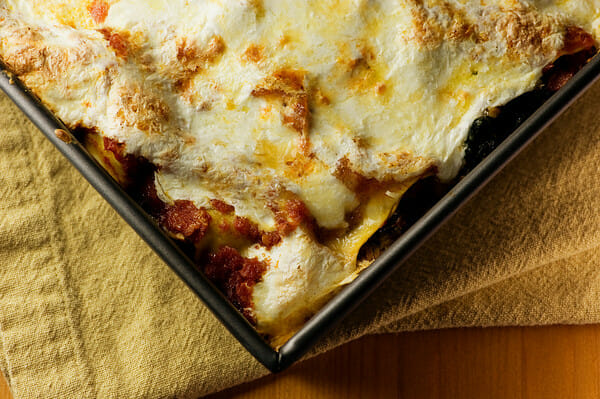 14 plum tomatoes (about 3 pounds total), halved lengthwise
¼ cup extra-virgin olive oil, plus more for baking dish
1 teaspoon dried oregano
3 garlic cloves, thinly sliced
Coarse salt and ground pepper
1 medium butternut squash, peeled, seeded, and sliced inch thick
3 bunches (about 2½ pounds total) spinach, trimmed and washed
1 container (15 ounces) part-skim ricotta
½ cup grated Parmesan
¼ teaspoon ground or freshly grated nutmeg
9 to 12 no-boil lasagna noodles (from a 9-ounce package)
1 pound fresh mozzarella, cut into pieces
1. Preheat oven to 400 degrees, with racks in upper and lower thirds. On a rimmed baking sheet, toss tomatoes with 2 tablespoons oil, oregano, and two-thirds the garlic; season with salt and pepper. Brush another rimmed baking sheet with 1 tablespoon oil. Arrange squash in one layer; season with salt and pepper. Roast squash until tender, about 20 minutes, and tomatoes until slightly shriveled, about 40 minutes, rotating sheets halfway through. In a blender or food processor, puree the tomato halves. Season with salt and pepper; set aside.
2. In a large skillet, heat 1 tablespoon oil over medium-high. Add remaining garlic and cook, stirring, 30 seconds. Gradually add 2 pounds spinach and toss until wilted, about 4 minutes. Transfer spinach to a strainer and press to release liquid. When cool, chop spinach and season with salt and pepper. In a large bowl, mix ricotta, cup Parmesan, egg, and nutmeg until smooth; season with salt and pepper.
3. Lightly oil a 9-inch square baking dish. Spread one-quarter the tomato sauce in dish, top with 3 to 4 noodles, breaking to fit as needed. Top with half the ricotta mixture, the squash, one-quarter the tomato sauce, and 3 to 4 noodles. Top with remaining ricotta mixture, cooked spinach, one-quarter the sauce, and 3 to 4 noodles. Top with remaining sauce, ½ pound mozzarella, and cup Parmesan.
4. Set rack in middle of oven. Bake lasagna on a rimmed baking sheet until golden brown, 30 to 35 minutes. Let lasagna cool 15 minutes before serving.