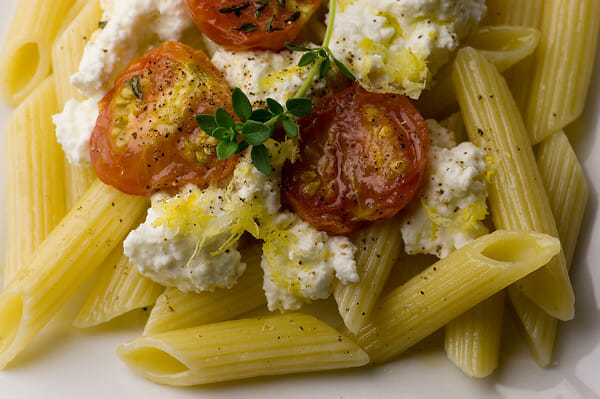 I just LOVE this recipe. It is simple and fast and so so so delicious. You can serve it hot or cool – it is completely flexible and agreeable. The one thing you absolutely MUST do is have is fresh and wonderful everything. Okay, the pasta can come out of a box, but the rest of it? Must be fresh. The little bits of lemon peel that you see on the top? Shaved off the lemon 2 minutes before the plate hit the table. The tomatoes? I had a whole dish of these babies….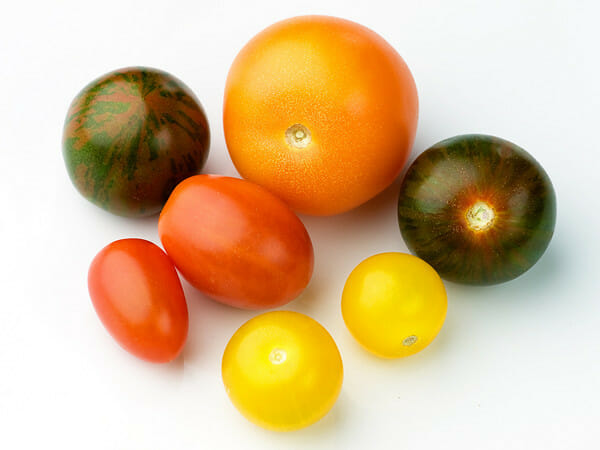 I ate the green and the yellow ones, but the red ones got roasted with some fresh thyme and some fantastic olive oil. A good olive oil can make your whole life better.
And then we come to the ricotta. Now, before you read the rest of this post, please know that fresh ricotta is readily available in many places, including Whole Foods. And if you really must, you CAN use supermarket variety ricotta in this dish. But I had some extra time on my hands this weekend and I do love a challenge, and so yes, I did. I made my own ricotta.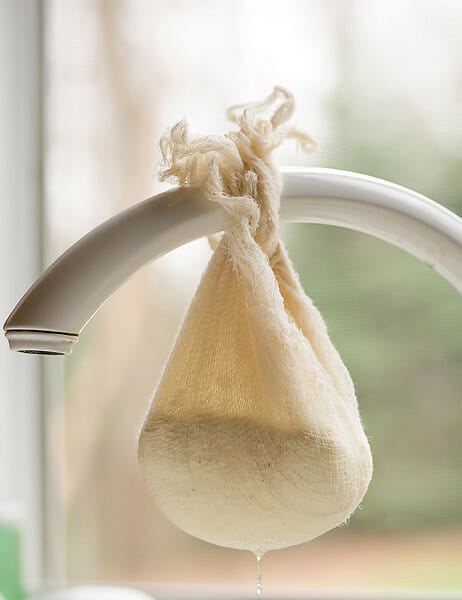 And before you get all impressed with me, I have to confess that the hardest part of the whole ricotta-making process was taking that picture with the drip coming out of the cheesecloth bundle at exactly the right time. The rest of the ricotta-making process? Ridiculously easy. Ridiculously fast. And ridiculously delicious. I am never buying ricotta again. I mean, just look at it.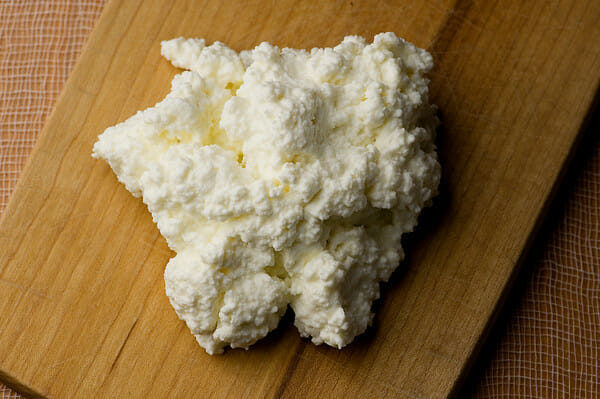 Isn't it beautiful? I am ridiculously proud of myself. If you are so inspired, you can get the recipe here. Salt it lightly and let it drain for only 5 to 10 minutes if you (like me) like your ricotta creamy. Or, just run to Whole Foods and buy some…but I promise you that making your own is actually a snap.Anyway, whatever way you get your fresh ricotta, this recipe is lovely and easy and feels like spring. You roast up some cut up cherry tomatoes that are tossed with olive oil and fresh thyme. While the tomatoes are roasting, cook the penne until it is al dente, and then stir in just enough olive oil to keep it from sticking. Spoon it into bowls and top with some of the tomatoes, a few spoonfuls of the ricotta, some freshly grated lemon peel, a little coarse salt and a grinding of fresh pepper. That's it! It's also lovely at room temperature — just let the pasta cool off for a little while after you add the olive oil and then proceed with the rest of it.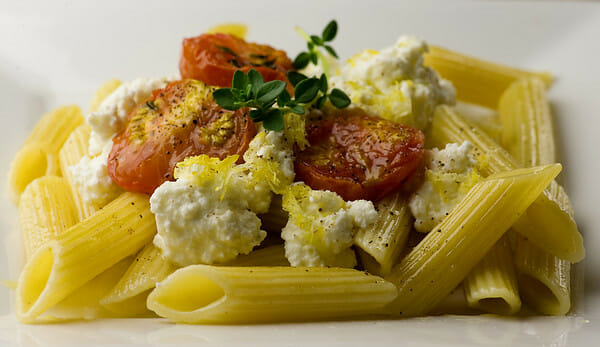 Happy spring, everyone.
Penne with Roasted Tomatoes and Fresh Ricotta, from Real Simple 
Print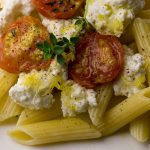 Penne with Roasted Tomatoes and Fresh Ricotta
---
Ingredients
1 pint cherry tomatoes, halved (about 2 cups)
2 tablespoons olive oil, plus more for drizzling
1/2 teaspoon kosher salt
1/4 teaspoon freshly ground black pepper, plus more to taste
10 sprigs fresh thyme
1 pound penne, cooked according to the package directions
1 1/2 cups fresh ricotta
zest of 1 lemon
---
Instructions
Preheat oven to 425º F. Arrange the tomatoes in a single layer on a baking sheet. Drizzle with 2 tablespoons of the olive oil; season with the salt and 1/4 teaspoon pepper. Scatter the thyme on top. Place in oven and bake until the tomatoes are soft, 15 to 20 minutes. Set aside to cool.
Divide the cooled pasta among 6 large bowls. Spoon some the ricotta over each serving. Top with some of the tomatoes and thyme sprigs. Drizzle with olive oil and sprinkle with lemon zest and pepper to taste just before serving.