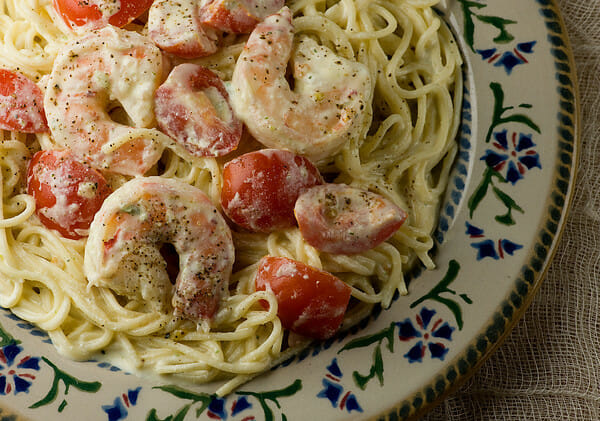 Pasta with Shrimp and Feta Cheese Sauce
Ingredients
4 scallions
1 tablespoon fresh thyme or 1 teaspoon dried
6 ounces feta cheese
9 ounces cottage cheese
12 ounces raw shrimp, shelled
12 ounces tomatoes, chopped
Salt and pepper to taste
9 ounces spaghetti
Directions
1. Boil water for pasta.
2. Chop scallions and thyme together in food processor.
3. Add feta and cottage cheese to processor and blend until creamy.
4. When pasta water boils, add shrimp, cook for 2 minutes or until done, and remove from water with slotted spoon, keeping water at a boil. Add shrimp to cheese sauce.
5. Cook pasta until al dente. Drain and add pasta to sauce, toss thoroughly and serve.