Okay, so I love absolutely anything in mini-form. Mini M&Ms. Mini Snickers bars. Actually, mini-bars of any kind. And I also love sloppy joes, except for the fact that they are so, well, sloppy. It's distracting when the bite that you thought was headed for your mouth actually ends up on the plate. Or your lap. Or the floor (although the dog lives for moments like that.)
So I was so happy with these little guys. First of all, you get three of them on your plate. Three sloppy joes instead of one, it just makes my heart sing. Second, there is the whole mini thing. You can finish each one off in 2 or 3 bites, and pretty much the whole thing stays together. And I also loved the little avocado slice on top. It made the sloppy joe almost elegant! I wanted to show you guys a picture that would demonstrate the actual mini size of these babies, and so I scoured the house for a comparable object that would show the approximate size….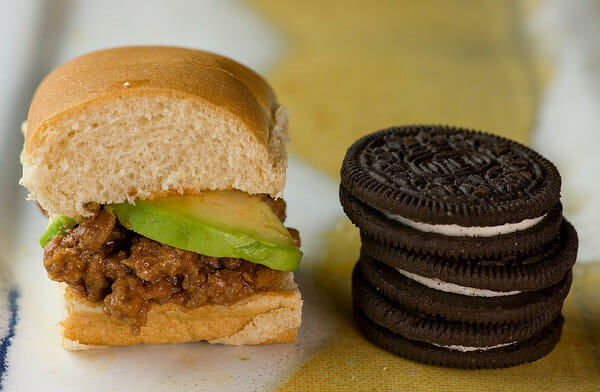 The recipe is below, but you can also use your own favorite sloppy joe recipe for this one because honestly, it's all about the mini-ness of it. And don't worry about finding mini-rolls because those shown above are made out of a hot dog roll cut into three pieces. I know, it's just too good to be true, right?
Mini-ness. Happy sigh.
Mini Sloppy Joes

, adapted from Everyday Food

Mini Sloppy Joes

Ingredients
1¼ pounds ground beef chuck
Coarse salt and ground pepper
1 onion, finely chopped
2 garlic cloves, minced
1 can tomato puree, (14.5 ounces)
2 tablespoons light-brown sugar
1 tablespoon cider vinegar
1 tablespoon tomato paste
1 teaspoon Worcestershire sauce
4 hot dog rolls, cut into mini buns
½ ripe avocado, thinly sliced
Instructions
In a large skillet over medium-high heat, cook beef, breaking apart pieces with a wooden spoon, until lightly browned, 5 to 6 minutes. Season with 1½ teaspoons salt and ¼ teaspoon pepper. Add onion and garlic; cook, stirring, until translucent, about 5 minutes.
Add pureed tomatoes, sugar, vinegar, tomato paste, Worcestershire, and 1½ cups water. Reduce heat to medium-low; simmer until thickened, about 20 minutes. Divide evenly among the mini buns.