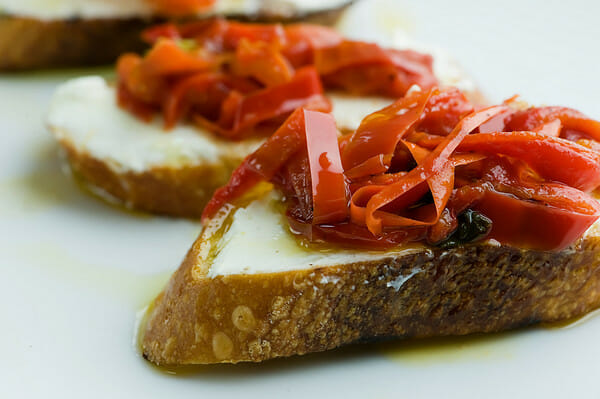 1 baguette, sliced into ¼ inch slices
Extra Virgin Olive Oil
12 ounces mascarpone
2 lemons, zested
1 teaspoon kosher salt (or more to taste)
¼ teaspoon fresh cracked black pepper
2 medium sweet red peppers, cut into 2 by ⅛ inch strips
1 to 2 hot chile peppers, cut into ⅛ inch strips, seeds removed if less heat is desired
¾ cup extra virgin olive oil
3 to 4 cloves garlic, smashed with the back of a knife
2 tablespoons red wine vinegar
4 to 5 basil leaves, torn
Salt and freshly ground pepper, to taste
Preheat oven to 375 degrees F. Arrange bread in a single layer on sheet pan and drizzle with oil. Bake about 10 minutes or until toasts are light golden brown. Remove pan from oven and drizzle again with oil and let cool.
In a large bowl, combine mascarpone, lemon zest, salt and pepper and stir to combine. Add more salt and pepper if desired.
Heat olive oil in medium saute pan over medium heat until hot. Add peppers and cook for one minute. Reduce heat to low and cook for and additional 25-30 minutes or until the peppers are very soft and the oil has taken on a reddish color. Add garlic cloves and cook another 5 minutes. Remove from heat and add vinegar, basil, salt and pepper to taste. Once refrigerated, peppers will hold for about one week.
Using a spoon, spread the lemony mascarpone on the crostini, top with warm peppers.
Crostini with Lemony Mascarpone and Sweet and Fiery Peppers, from Jessica Marotta