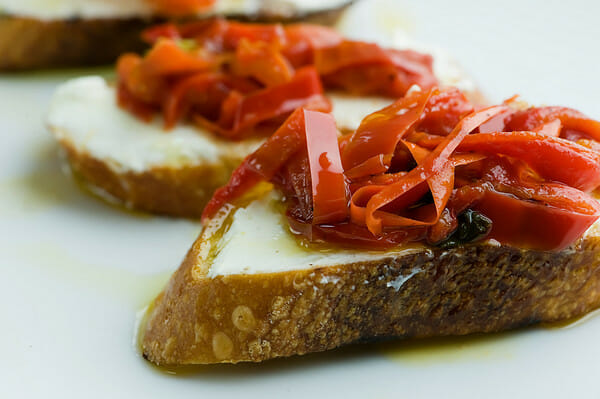 The other day I got to photograph the latest event in our local Meet The Chefs series. I do love these assignments, because not only do I get to meet some amazing chefs, I also get both eat their scrumptious creations AND find out how they make them. This time the chef was the wonderful Jessica Marotta. Here's Jessica in her natural habitat….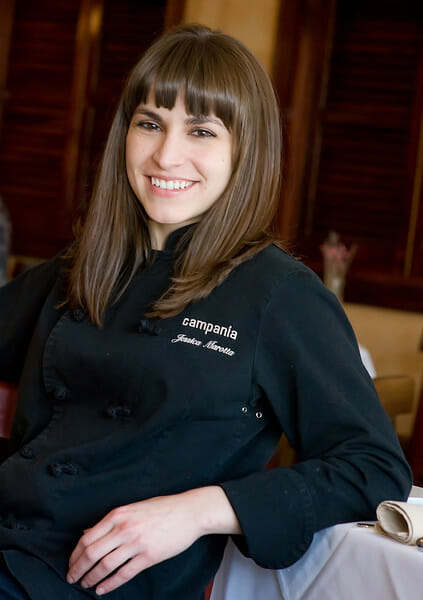 And here she is ready to show all of us how to make these fabulous crostini.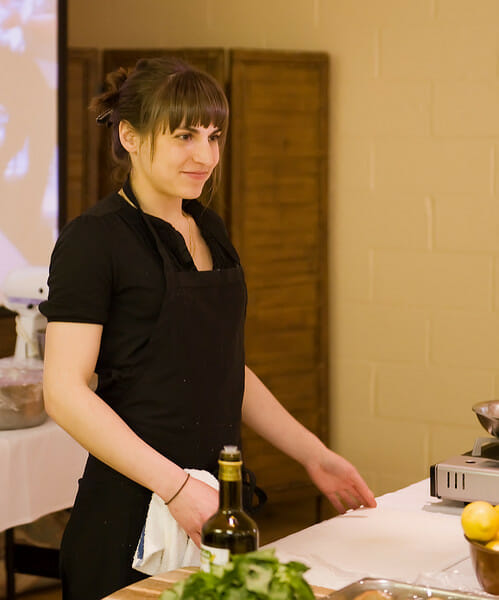 Jessica's theme for the event was mascarpone cheese, which she makes herself, and which she used in both this recipe and a dessert recipe that I will post later. Luckily for me, she promised it was perfectly okay to use store bought mascarpone. I have mastered making my own ricotta, but mascarpone…I might need to work my way up to that. Anyway, she started out by showing us how to make the peppers. She cut them up into nice thin strips in that lightening fast way that chefs can do. (I love watching them do that.)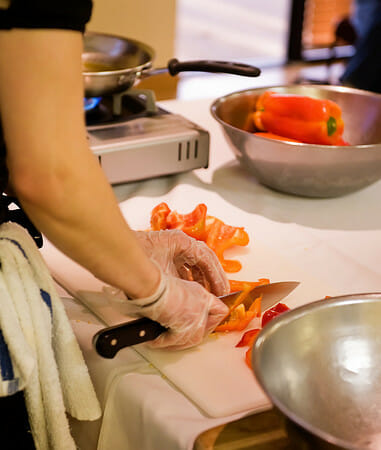 And cooked them in olive oil and garlic until they were soft…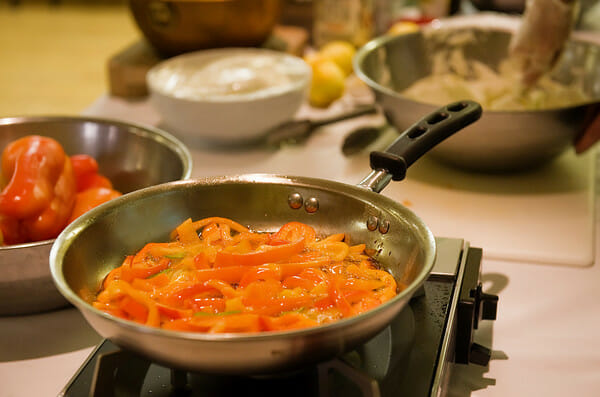 And then marinated them in vinegar, basil, salt and pepper. Oh yes.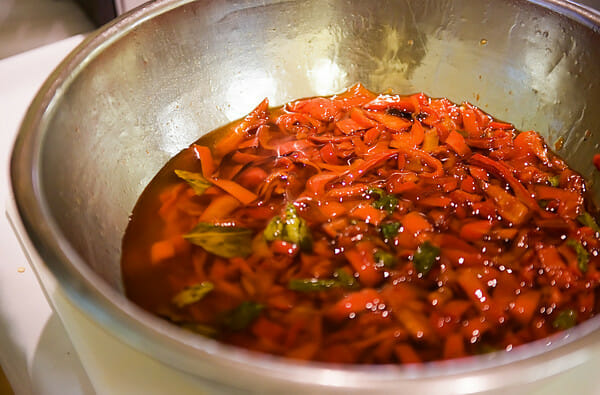 Then it was time to make the lemony mascarpone. She had a lovely pile of lemons.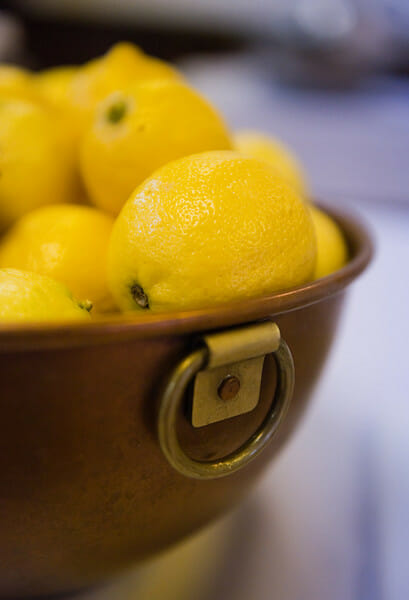 And here is her mascarpone cheese. Which she made herself. Have I mentioned I will be purchasing mine from the store when I make this recipe myself?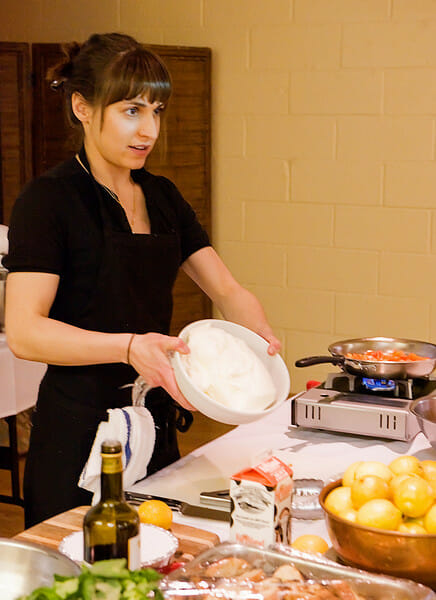 She grated the lemon peel right into the bowl of cheese, and then added some salt and pepper and mixed the whole heavenly thing together.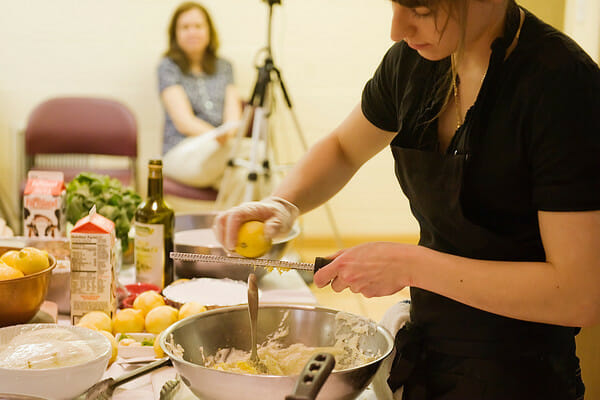 Then she pulled out a tray of these crostini, which is made out of french bread slices that have been drizzled with olive oil, toasted, and then drizzled again. (Everything is better when drizzled with olive oil.)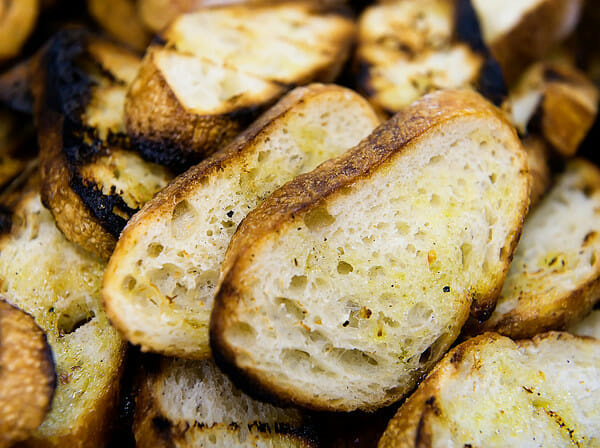 Okay! Take a crostini. Spread some lemon mascarpose on top. Spoon on some peppers. More olive oil drizzled on top.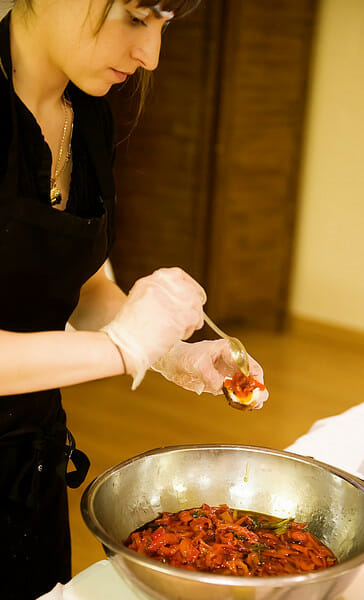 Oh, my goodness gracious. Yes, they DO taste that good. I photographed them, and then I ate them, and then I ate some of the leftovers after the event was over. I couldn't help myself.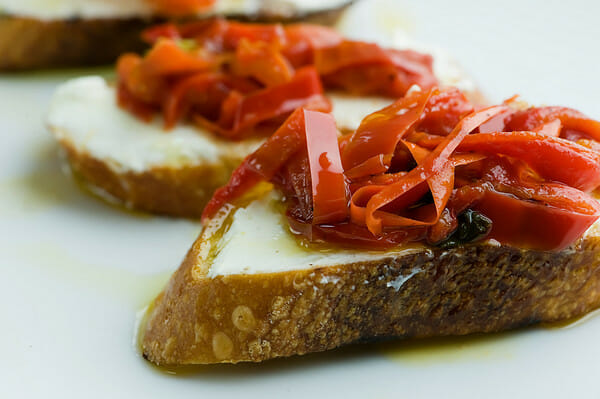 Coming up next: I will show you how Jessica taught us how to make…are you ready?…Mascarpone Semifreddo with Strawberries and Black Pepper Honey. Semifreddo is Italian, and it means "the best ice cream you will ever eat in your life." . And in the meantime, here is Jessica's recipe.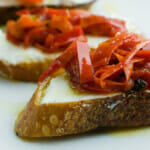 Crostini with Lemony Mascarpone and Sweet Fiery Peppers
---
Ingredients
Crostini
1 baguette, sliced into 1/4 inch slices
Extra Virgin Olive Oil
Mascarpone
12 ounces mascarpone
2 lemons, zested
1 teaspoon kosher salt (or more to taste)
1/4 teaspoon fresh cracked black pepper
Peppers
2 medium sweet red peppers, cut into 2 by 1/8 inch strips
1 to 2 hot chile peppers, cut into 1/8 inch strips, seeds removed if less heat is desired
3/4 cup extra virgin olive oil
3 to 4 cloves garlic, smashed with the back of a knife
2 tablespoons red wine vinegar
4 to 5 basil leaves, torn
Salt and freshly ground pepper, to taste
---
Instructions
To Make Crostini:
Preheat oven to 375 degrees F. Arrange bread in a single layer on sheet pan and drizzle with oil. Bake about 10 minutes or until toasts are light golden brown. Remove pan from oven and drizzle again with oil and let cool.
To Make Mascarpone:
In a large bowl, combine mascarpone, lemon zest, salt and pepper and stir to combine. Add more salt and pepper if desired.
To Make Peppers:
Heat olive oil in medium saute pan over medium heat until hot. Add peppers and cook for one minute. Reduce heat to low and cook for and additional 25-30 minutes or until the peppers are very soft and the oil has taken on a reddish color. Add garlic cloves and cook another 5 minutes. Remove from heat and add vinegar, basil, salt and pepper to taste. Once refrigerated, peppers will hold for about one week.
To Assemble:
Using a spoon, spread the lemony mascarpone on the crostini, top with warm peppers.
Crostini with Lemony Mascarpone and Sweet and Fiery Peppers, from Jessica Marotta