Chicken with Mustard Wine Cream Sauce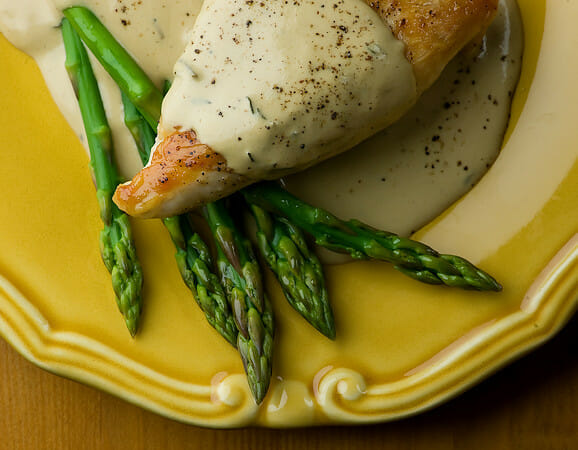 4 boneless, skinless chicken breasts (6 ounces each)
¼ teaspoon salt
¼ teaspoon pepper
2 tablespoons olive oil
¼ cup dry white wine, or chicken broth
½ cup heavy cream
2 tablespoons Dijon mustard
1 teaspoon chopped fresh thyme
Sprinkle chicken breasts with salt and pepper. In a large skillet, heat oil over medium-high heat. Add chicken; saute until cooked through, 10 to 12 minutes, turning once. Transfer to a plate; keep warm.
Pour wine into hot skillet; cook, stirring, until reduced by half, about 1 minute. Whisk in cream, mustard, and thyme. Cook, whisking, until thickened, about 2 minutes.
Pour any accumulated chicken juices into sauce. Right before serving, pour a little cream sauce on plate. Place chicken (with any veggies you are using, I like asparagus) on top, and drizzle remaining sauce over chicken.
{Please close floating ads before printing.}
---
Article printed from Framed Cooks: http://www.framedcooks.com