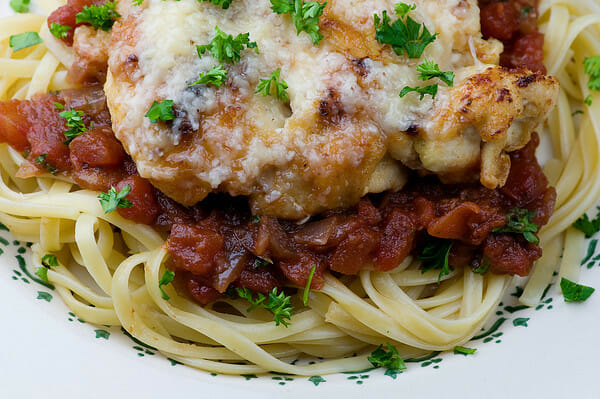 As some of you know, every morning I post whatever I am going to cook that day as my Facebook status for the day. (The origin of this is as follows: when I first got my Facebook page I never posted a status. The teenager told me that made me extremely uncool, and I had to post and change my status at least once a day. The only thing that reliably changes in my life every day is dinner, and so that is what I change my status to every morning. Because I update my status in the morning, it has led to many puzzled Facebook comments from folks who think I am cooking, say, chicken parmigiana for breakfast.)
This trivia about my Facebook page actually does have a point, which is that in my status for that day, I foolishly mentioned that I was making a version of chicken parm that used PARMIGIANA cheese, as in the title of the dish, not mozzarella cheese. And I think I further complicated matters by calling it "parmesan" cheese. Well, that opened some floodgates, let me tell you. I learned more about the history of this dish than I ever wanted to know — although none of it came with source material, so as far as I am concerned, my point is still valid. Chicken Parmigiana just seems more authentic made with the cheese of same name. don'tget me wrong, I love mozzarella cheese as much as the next girl. Just click here, or here, or here, for example. But on chicken parm, all that mozzarella just seems to take over. Parmigiana, on the other hand, is still delicious but a little lighter in consistency, so all the flavor of your tomato sauce and chicken still stands a fighting chance.
I know, I know, what's a nice Irish girl like me doing messing around with the likes of a classic Italian dish like this one? But hey, I know what I like when I taste it…and I LIKED this one. don'tforget the pasta with it, I think we can all agree on that!


Chicken Parmigiana, from The Pioneer Woman 
Print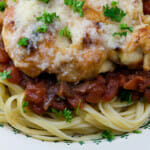 Chicken Parmigiana
---
Ingredients
4 whole (up To 6) Boneless, Skinless Chicken Breasts, Trimmed And Pounded Flat
½ cups All-purpose Flour
Salt And Pepper, to taste
½ cups Olive Oil
2 Tablespoons Butter
1 whole Medium Onion, Chopped
4 cloves Garlic, Minced
¾ cups Red Wine
3 cans (14.5 Oz.) Crushed Tomatoes
2 Tablespoons Sugar
¼ cubes Chopped Fresh Parsley
1 cup Freshly Grated Parmesan Cheese
1 pound Thin Linguine
---
Instructions
Mix flour, salt, and pepper together on a large plate. Dredge flattened chicken breasts in flour mixture. Set aside.
Cook linguine until al dente.
Heat olive oil and butter together in a large skillet over medium heat. When butter is melted and oil/butter mixture is hot, fry chicken breasts until nice and golden brown on each side, about 2 to 3 minutes per side. Remove chicken breasts from the skillet and keep warm.
Without cleaning skillet, add onions and garlic and gently stir for 2 minutes. Pour in wine and scrape the bottom of the pan, getting all the flavorful bits off the bottom. Allow wine to cook down until reduced by half, about 2 minutes.
Pour in crushed tomatoes and stir to combine. Add sugar and more salt and pepper to taste. Allow to cook for 30 minutes. Toward the end of cooking time, add chopped parsley and give sauce a final stir.
Carefully lay chicken breasts on top of the sauce and completely cover them in grated Parmesan. Place lid on skillet and reduce heat to low. Allow to simmer until cheese is melted and chicken is thoroughly heated. Add more cheese to taste.
Place cooked noodles on a plate and cover with sauce. Place chicken breast on top and sprinkle with more parsley. Serve immediately.