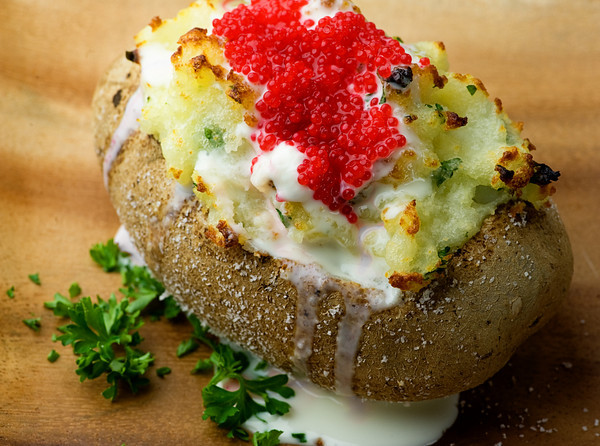 4 large russet potatoes (10 to 12 ounces each), scrubbed well
2 teaspoons kosher salt
¼ cup crème fraîche, more for serving
2 tablespoons unsalted butter, at room temperature
4 teaspoons chopped chives
½ teaspoon freshly ground black pepper
2 ounces salmon roe, for topping.
1. Heat oven to 425 degrees. Rub potatoes with 1½ teaspoons salt and pierce twice with a fork (don't worry if some salt falls off). Place potatoes on a baking sheet and bake until skin is crispy and insides are tender when pierced with a fork, 60 to 70 minutes.
2. When potatoes have cooled enough to handle, use a sharp knife to slice off tops. Scoop out insides, leaving about ¼ inch around skin; transfer potato flesh to a bowl. Add crème fraîche, butter, chives, remaining ½ teaspoon salt and pepper; mash with a fork until combined.
3. Stuff potato skins with potato mixture. Return potatoes to oven and bake until heated through, about 10 minutes. Run under broiler for another 1 to 2 minutes until tops are golden brown and crisp. Serve hot, topped with salmon roe and additional crème fraîche, if desired.