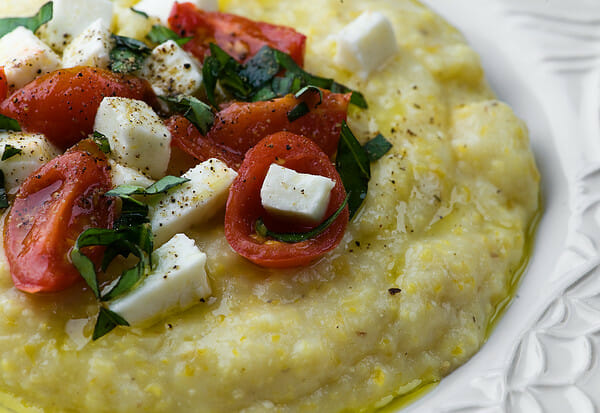 7½ cups water
1½ teaspoons salt
Pinch of baking soda
1½ cups coarse cornmeal
2 tablespoons butter
2 cups grated Parmesan cheese
3 tablespoons olive oil
2 garlic cloves, peeled and sliced thin
Pinch of red pepper flakes
Pinch of sugar
2 pints cherry tomatoes, halved
Salt and pepper to taste
1 cup cubed fresh mozzarella
2 tablespoons chopped fresh basil
1. Bring water to boil, stir in salt and baking soda. Slowly pour in cornmeal in steady stream, stirring constantly. Bring to a boil, reduce heat to low and cover.
2. After 5 minutes, whisk polenta to smooth out lumps, cover and cook without stirring until polenta is tender, about 20-25 minutes.
3. Remove from heat and stir in butter and Parmesan, season to taste with salt and pepper.
4. Meanwhile, make sauce by heating oil, garlic, pepper flakes and sugar in skillet over medium high heat for one minute. Stir in tomatoes and cook until they soften, about one more minute.
5. Season to taste and remove from heat.
6. Spoon tomato mixture with any accumulated juices over polenta, top with mozzarella and sprinkle with basil before serving.
Recipe adapted from Cooks Illustrated [3]