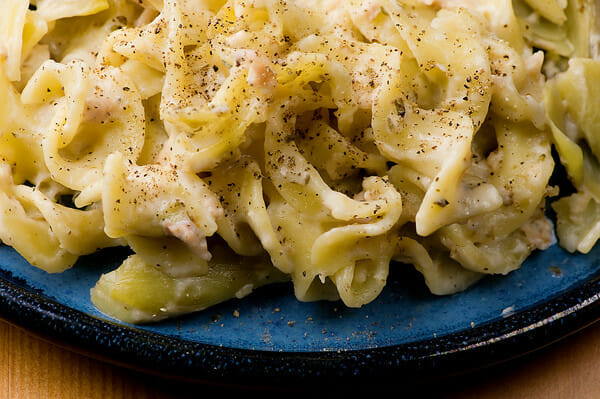 ⅓ cup olive oil, plus more for baking dishes
Coarse salt and ground pepper
1 pound wide egg noodles
½ cup all-purpose flour
5 cups whole milk
4 cans (6 ounces each) tuna in olive oil, drained
1 can (14 ounces) artichoke hearts, drained and thickly sliced
5 scallions, thinly sliced
4 ounces feta cheese
½ cup finely grated Parmesan
Preheat oven to 400 degrees. Lightly oil two 8-inch square (or other shallow 2-quart) baking dishes. In a large pot of boiling salted water, cook noodles until 2 minutes short of al dente; drain, and return to pot.
Meanwhile, in a 5-quart Dutch oven or heavy pot, heat oil over medium. Add flour and cook, stirring, 1 minute. Gradually add milk, stirring until smooth. Cook, stirring occasionally, until mixture comes to a simmer.
Remove from heat; add mixture to noodles in pot, along with tuna, artichoke hearts, feta cheese and scallions. Season with salt and pepper, and toss. Divide between prepared baking dishes, and sprinkle with Parmesan. Bake until golden and bubbling, about 20 minutes.