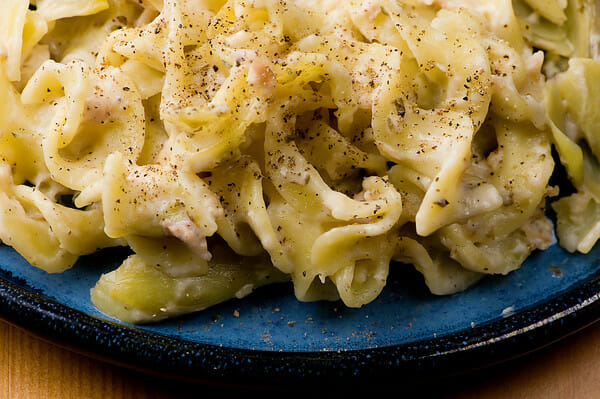 Okay, so this is NOT your grandmother's tuna casserole. Yes, there is tuna, and yes, there are noodles. But there are also artichoke hearts and there is also feta cheese, and there is absolutely no cream-of-anything soup. The teenager still ran screaming from the room, but the Southern husband and I loved it.
You really must use tuna packed in oil for this one. I think we have all been so brainwashed into using the packed in water variety that you now have to look hard for the packed in oil kind, but it really does make a big difference. (It's also great in this recipe for tuna salad, by the way.) The packed in oil kind has a rich, delicious flavor that the water kind just doesn't have. In this recipe it blends with the feta cheese and the artichokes to give it a little bit of an exotic Greek flavor.
So the next time you get that longing for a warm, comforting tuna casserole (and don't we all get those?), give this one a try. It makes great leftovers, too.
 
Print
Mediterranean Tuna Casserole
---
Ingredients
1/3 cup olive oil, plus more for baking dishes
Coarse salt and ground pepper
1 pound wide egg noodles
1/2 cup all-purpose flour
5 cups whole milk
4 cans (6 ounces each) tuna in olive oil, drained
1 can (14 ounces) artichoke hearts, drained and thickly sliced
5 scallions, thinly sliced
4 ounces feta cheese
1/2 cup finely grated Parmesan
---
Instructions
Preheat oven to 400 degrees. Lightly oil two 8-inch square (or other shallow 2-quart) baking dishes. In a large pot of boiling salted water, cook noodles until 2 minutes short of al dente; drain, and return to pot.
Meanwhile, in a 5-quart Dutch oven or heavy pot, heat oil over medium. Add flour and cook, stirring, 1 minute. Gradually add milk, stirring until smooth. Cook, stirring occasionally, until mixture comes to a simmer.
Remove from heat; add mixture to noodles in pot, along with tuna, artichoke hearts, feta cheese and scallions. Season with salt and pepper, and toss. Divide between prepared baking dishes, and sprinkle with Parmesan. Bake until golden and bubbling, about 20 minutes.
SaveSave