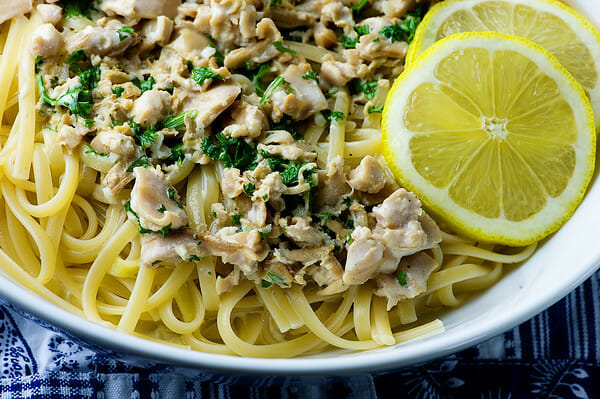 Here is another one from my current favorite cookbook, THE PIONEER WOMAN COOKS by the amazing and tireless Ree Drummond. If you don't yet have a copy of this cookbook, run…do not walk…to your nearest bookstore and get it. I have now worked my way through about half the recipes in this book and they all ROCK.
What I love most about this cookbook is that it takes dishes you have probably made 100 times before and tweaks them just enough to make them special and delicious, but not so far that you don't recognize them. Take this linguine with clam sauce, for example. All the usual, comfortingly familiar ingredients…the pasta, the chopped clams, the parsley…and then this recipe adds heavy cream and lemon. Not a huge change, but man, does it make a difference. All those other linguine with clam sauce recipes I have got tossed out the window.
So if you, like I, are a die-hard lover of linguine with clam sauce and think you have seen it all, give this one a try. And even if you aren't, give this one a try. Trust me!
LINGUINE WITH CLAM SAUCE, from The Pioneer Woman Cooks 

Print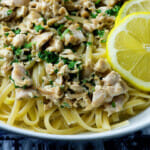 Linguine with Clam Sauce
---
Ingredients
1 pound linguine
1 tablespoon olive oil
2 tablespoons butter
3 minced garlic cloves
1 ten ounce cans chopped clams, drained and juice reserved
3/4 cup white wine
Juice of 1/2 lemon, plus lemon slices for garnish
2 tablespoons chopped parsley
3/4 cup heavy cream
Salt and fresh ground pepper
Grated parmesan
---
Instructions
Cook the linguine according to package directions until al dente.
Meanwhile, heat olive oil and one tablespoon butter over high heat. Add garlic and clams and cook for 3 minutes.
Pour in the white wine, scraping the bottom of the pan with spoon. Cook for 3-4 minutes until sauce is reduced. Add remaining butter and stir to melt.
Reduce heat and squeeze in the lemon juice. Sprinkle in parsley and add the cream.
Add salt and pepper. Thin sauce with clam juice if needed.
Pour pasta into heated bowl. Pour the sauce on straight from the skillet. Toss to combine, and garnish with lemon slices and parmesan cheese.