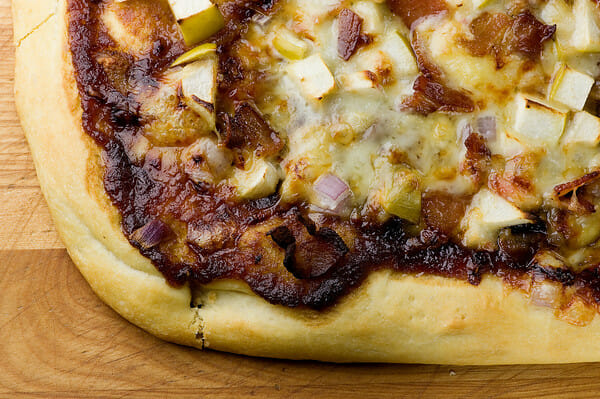 Now, I am not usually someone who likes her pizza messed with. As a matter of fact, whenever we order pizza, I am the one that insists that at least half of it has to be plain — none of this sausage or meatball or pineapple nonsense. So why on earth I decided to try this one, I have no idea. Maybe because I had an open jar of apple butter in the fridge? Maybe because it involved bacon? Maybe because the moon was in the seventh house and Jupiter was aligned with Mars?
At any rate, I heard about this from my friend P, who (I think) just made it up off the top of his head, and after he described it to me I just kept thinking about it. It does have the whole sweet and salty thing going on, which of course I adore. And so one day when I happened to have all the components in my kitchen, I took the plunge and made it.
YUM.
It was just the right balance of the sweet apple and apple butter and the salty bacon and cheese, and the red onion gave it just that little kick. I used the Pioneer Woman's recipe for pizza dough which you can find by clicking here, and I actually made it the night before — by the next evening it was still perfect, and I just stretched it right out into a thin rectangle. You can also use store-bought pizza dough if you want to, but the home-made kind is a snap to make, just so you know. Spread on some apple butter, sprinkle on the toppings, bake at 500 for about 10 minutes and then dig in.
I still don't think I can cope with bacon cheeseburger pizza though.
APPLE BACON PIZZA
Print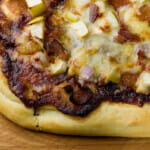 Apple Bacon Pizza
---
Ingredients
Pizza dough, enough for one pizza
1 cup apple butter
1/2 cup chopped red onion
1 cup chopped cooked bacon
1 Granny Smith apple, cored and chopped
2 cups shredded fontina cheese
---
Instructions
Preheat oven to 500.
Spray baking sheet with cooking spray. Put dough on tray and stretch into a rectangle shape, making sure the dough is nice and thin.
Spread apple butter on dough. Sprinkle cheese on top, followed by other toppings.
Bake for about 10 minutes until crust is browned and cheese is melted.
Cook for a few minutes, then slice and enjoy!