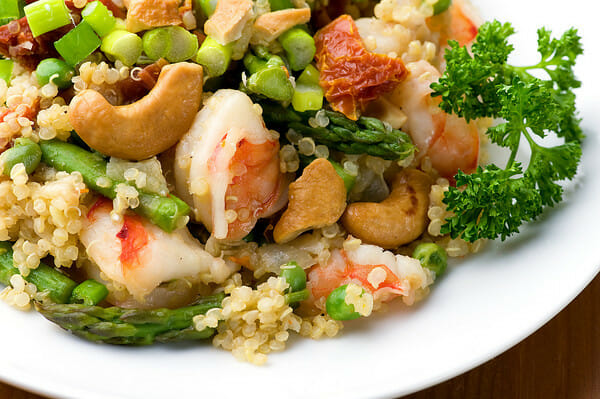 1 tablespoon olive oil
2 cloves garlic, finely chopped
½ medium red onion, finely chopped
½ cup sun-dried tomatoes, not reconstituted, julienned
½ cup vegetable broth or water
½ cup white wine
2 tablespoons lemon juice
1 tablespoon grated lemon zest
Salt and pepper to taste
½ cup uncooked quinoa, rinsed
½ pound medium shrimp, peeled and deveined
½ pound asparagus, trimmed and cut into 1-inch pieces
¼ cup fresh or frozen green peas
½ cup roasted cashew pieces
6 green onions, finely chopped
¼ cup finely chopped parsley
1. In a medium pot, heat oil over medium heat. Add garlic and onions and cook for 3 minutes. Add sun-dried tomatoes and continue to cook for 1 more minute. Add broth, wine, lemon juice, lemon zest, salt and pepper and bring to a boil. Stir in quinoa and simmer on low heat, covered, for about 20 minutes, or until quinoa is almost tender.
2. Arrange shrimp on top of quinoa in pot and simmer for 3 minutes. Add asparagus and peas on top of the shrimp and simmer for 3 more minutes. Top with cashews, green onions and parsley and season with salt and pepper. Serve immediately.
Recipe from Whole Foods [3]