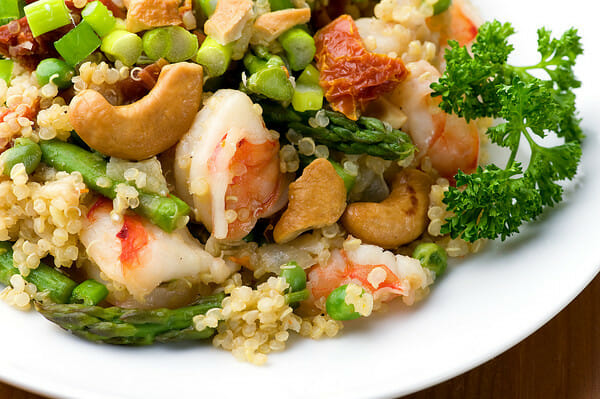 So, I was probably the last one to find out it is pronounced "keen-wah," and that it contains more protein than any other grain. You guys all knew that already, right? I just knew that it tastes dang good, and whenever I have had one too many Maple Butterscotch Macadamia Blondies and am needing an injection of healthy food, this is a great and yummy way to get some. It is chock-full of veggies — asparagus, peas, sundried tomatoes — flavored up with some scallions and a few salty cashews, and topped off with my favorite…delicious chopped up shrimp.
Even more happily, it all cooks up in one pot — the quinoa first, then the veggies, topped with the shrimp. If I am feeling really crazy, I crumble some soft feta cheese onto the top right before I serve it.
This recipe comes from the Whole Foods website, which is (as you might guess) a great source for healthy and delicious food. I wouldn't go there looking for Cookie Truffle recipes, but if you are looking for stuff to make with quinoa, you're looking in the right place.
So there you go. Be healthy, people. Every now and then, anyway.

Recipe from Whole Foods
Warm Quinoa Salad with Shrimp and Asparagus
Ingredients
1 tablespoon olive oil
2 cloves garlic, finely chopped
½ medium red onion, finely chopped
½ cup sun-dried tomatoes, not reconstituted, julienned
½ cup vegetable broth or water
½ cup white wine
2 tablespoons lemon juice
1 tablespoon grated lemon zest
Salt and pepper to taste
½ cup uncooked quinoa, rinsed
½ pound medium shrimp, peeled and deveined
½ pound asparagus, trimmed and cut into 1-inch pieces
¼ cup fresh or frozen green peas
½ cup roasted cashew pieces
6 green onions, finely chopped
¼ cup finely chopped parsley
Instructions
In a medium pot, heat oil over medium heat. Add garlic and onions and cook for 3 minutes. Add sun-dried tomatoes and continue to cook for 1 more minute. Add broth, wine, lemon juice, lemon zest, salt and pepper and bring to a boil. Stir in quinoa and simmer on low heat, covered, for about 20 minutes, or until quinoa is almost tender.
Arrange shrimp on top of quinoa in pot and simmer for 3 minutes. Add asparagus and peas on top of the shrimp and simmer for 3 more minutes. Top with cashews, green onions and parsley and season with salt and pepper. Serve immediately.