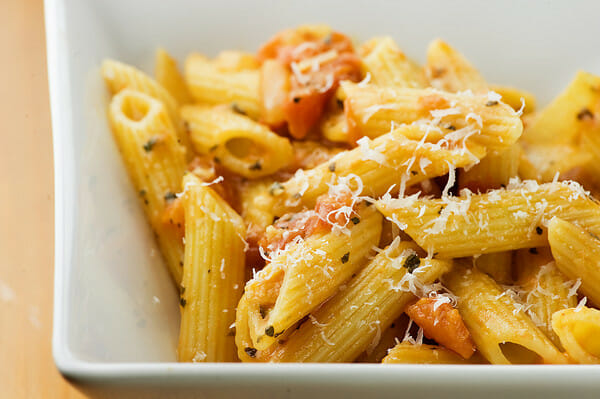 This blog started out with me trying and then posting new recipes that I had tried out and loved, and a lot of what I put up here is still exactly that. But a few months into it, it occurred to me that I should also be sharing some of the tried and true beloved recipes that I have made again and again over the years. And so I started a category called "Kate's Favorites." (you can find it on the right hand side of the blog web page, under the heading "What's Cooking At Framed." These are all the recipes up on the blog that are my true blue, time-tested, best friends of recipes. The ones I would take with me to a desert island. This is assuming there is a Fairway supermarket on the desert island, and if I can also take my crockpot and my La Crueset dutch oven.)
Anyway, this pasta recipe is one of the oldest and best recipes in this category. I got it out of Bon Appetit magazine about one million years ago, before Bon Appetit got all fancy and frou-frou (I miss the old Bon Appetit!! Why do they always have to CHANGE things that are working just fine?? Are you LISTENING to me, Facebook owners??), and I have made it over and over and over again ever since. It's a great way to use up a piece of blue cheese. You can jazz it up by mixing in shredded chicken or chopped shrimp. If it is fresh basil season it is pure heaven on a plate, but it's pretty dang great with the dried kind too. It's one of those happy, cooperative recipes that merrily adapts to whatever you end up tossing into it. I love recipes like that, don't you? And it's also just delectable in its original form.
So one of my favorites, from me to you. Enjoy.
PENNE WITH GORGONZOLA TOMATO SAUCE, adapted from Bon Appetit

Penne with Gorgonzola Tomato Sauce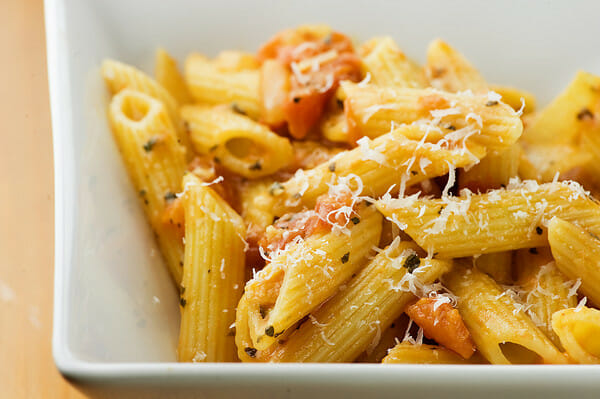 Ingredients

3 tablespoons olive oil

1 medium onion, chopped

4 garlic cloves, chopped

1 14 1/2-ounce can Italian plum tomatoes, drained, chopped

1/2 cup chopped fresh basil or 1 tablespoon dried, crumbled

1/2 cup (1 stick) butter, room temperature

6 ounce Gorgonzola cheese

1 pound penne pasta

1 cup freshly grated Romano or Parmesan cheese

Directions

1. Heat oil in heavy large skillet over medium heat. Add chopped onion and garlic and sauté until translucent, about 5 minutes. Stir in chopped tomatoes and basil. Cook until mixture thickens, stirring occasionally, about 10 minutes.

2. Meanwhile, using fork, beat butter with Gorgonzola until blended.

3. Cook pasta in large pot of boiling salted water until just tender but still firm to bite, stirring occasionally. Drain well. Return pasta to pot.

4. Whisk Gorgonzola mixture into tomato sauce. Add sauce to pasta and stir to coat. Season with salt and pepper. Sprinkle with Romano and serve.