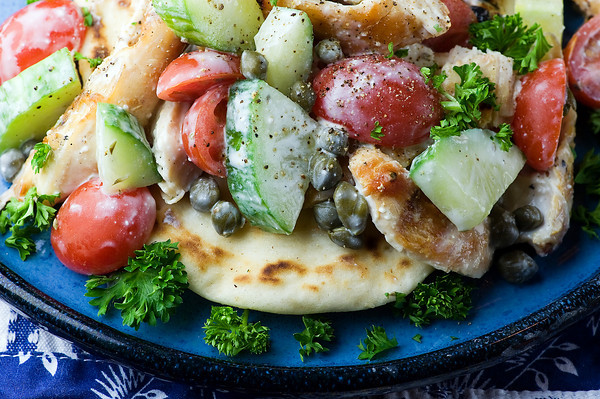 4 cups shredded cooked chicken
2 large cucumbers, chopped
2 scallions, chopped
2 tablespoons capers
1 pint cherry tomatoes, halved
½ cup plain yogurt
½ cup crumbled feta
1 teaspoon oregano
Fresh ground black pepper
½ cup chopped parsley
Pita bread (you could also use naan bread)
1. Combine chicken, cucumbers, scallions, capers and tomatoes in bowl.
2. Mix up feta and yogurt -- you can do this by hand if you like chunkier dressing or in a food processor if you like it smooth. Mix in the oregano.
3. Pour dressing over chicken mixture and stir just to coat. Sprinkle with pepper and parsley and serve with pita bread.
Recipe adapted from Dinner Doctor [3]