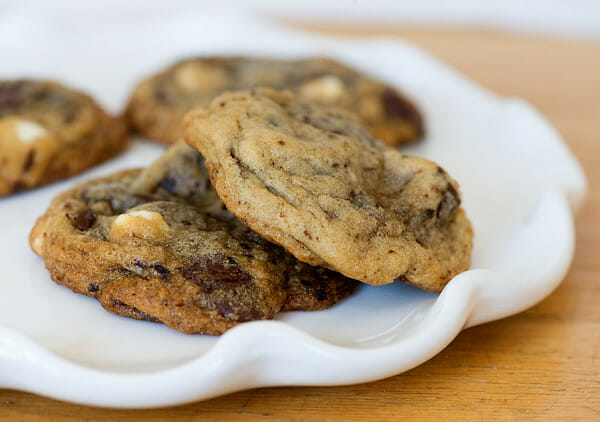 2 cups flour
3 tablespoons instant coffee powder
1 teaspoon baking soda
1 teaspoon salt
2 sticks butter, cut into chunks
¾ cup granulated sugar
¾ cup packed dark brown sugar
2 large eggs
1 teaspoon vanilla extract
1 pound chocolate chips or chunks -- any variety you like.
1. Whisk the flour, coffee, baking soda and salt together. Set aside.
2. Beat the butter in a mixer until lightened. Add granulated sugar and beat for 30 seconds. Add brown sugar and beat for another 30 seconds. Add eggs one at a time, beating after each addition. Add vanilla and beat until blended.
3. Turn mixer speed down and add flour mixture, mixing until just incorporated. Add chocolate and mix until evenly blended in.
4. Wrap the dough in plastic wrap and chill in fridge for several hours to overnight.
5. Preheat oven to 350, and line cookie sheets with parchment paper or Silpat. Drop a heaping tablespoon full of dough onto sheets, leaving 2 inches between cookies. Bake for 10-12 minutes.
6. Cool on racks. Make very very sure you eat one while they are still warm.