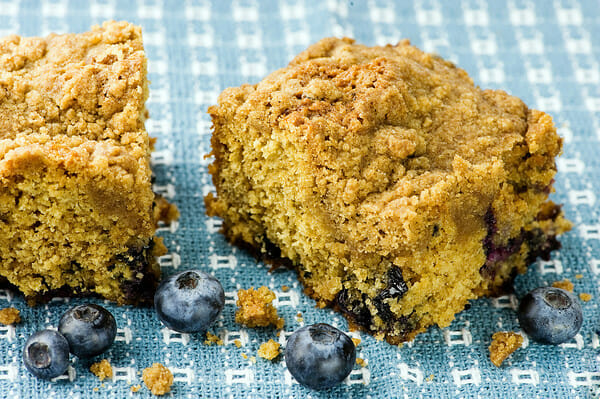 1 cup all-purpose flour (spooned and leveled)
½ cup packed light-brown sugar
¼ teaspoon salt
½ cup butter
4 tablespoons unsalted butter, softened, plus more for pan
1½ cups all-purpose flour (spooned and leveled) , plus more for pan
1½ teaspoons baking powder
½ teaspoon baking soda
¼ teaspoon salt
¼ teaspoon allspice
¾ cup granulated sugar
1 large egg
⅔ cup low-fat buttermilk, well shaken
1½ cups blueberries
Preheat oven to 350 degrees. Make streusel topping: In a medium bowl, stir together flour, brown sugar, and salt. Cut in the butter using your hands or a pastry blender until large, moist crumbs form. Chill.
Butter and flour a 9-inch square baking pan. In a medium bowl, whisk together 1½ cups flour, baking powder, baking soda, salt, and allspice. In a large bowl, beat the butter and granulated sugar with an electric mixer until fluffy. Add egg; beat well. Add flour mixture and buttermilk alternately until just combined. (Batter will be very stiff.) In a large bowl, toss the blueberries with remaining teaspoon flour. Fold blueberries into the batter; spoon into prepared pan.
Sprinkle cake with streusel topping. Bake until golden brown and a tester comes out clean, 45 to 50 minutes. Let cool completely. Cut into squares.