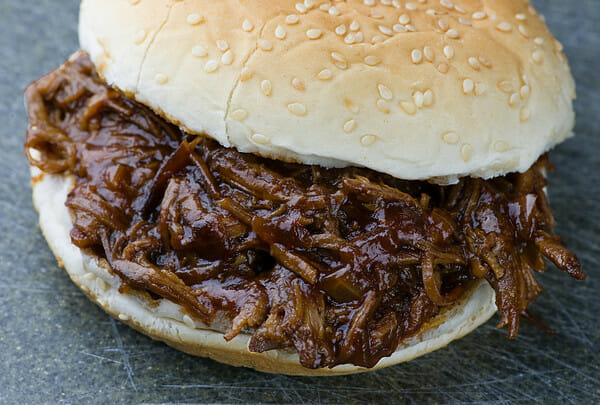 1 five pound beef brisket
½ teaspoon liquid smoke
1 teaspoon salt
½ teaspoon paprika
½ teaspoon garlic powder
½ teaspoon dry mustard
8 sandwich rolls
2 cups BBQ sauce (following recipe)
2 tablespoons vegetable oil
½ cup chopped onions
2 tablespoons minced garlic
1 teaspoon cumin
¼ teaspoon cayenne pepper
1 cup ketchup
½ cup malt vinegar
¼ cup soy sauce
¼ cup packed dark brown sugar
2 tablespoons Worcestershire sauce
¼ teaspoon liquid smoke
1. Preheat oven to 325
2. Put brisket in roasting pan and brush with liquid smoke
3. Combine salt and spices and mix well. Rub into brisket.
4. Cover roasting pan and bake until brisket is fork-tender, about 3½ hours
5. Remove from pan and use 2 forks to pull beef apart in the pan juices, shredding coarsely.
6. Serve on rolls with barbecue sauce.
1. Heat oil in saucepan and add onion, garlic, cumin and cayenne. Saute for 5 minutes over medium heat.
2. Stir in remaining ingredients and simmer, stirring, until slightly thickened, 10 minutes. Makes 2 cups.
{Please close floating ads before printing.}
---
Article printed from Framed Cooks: http://www.framedcooks.com