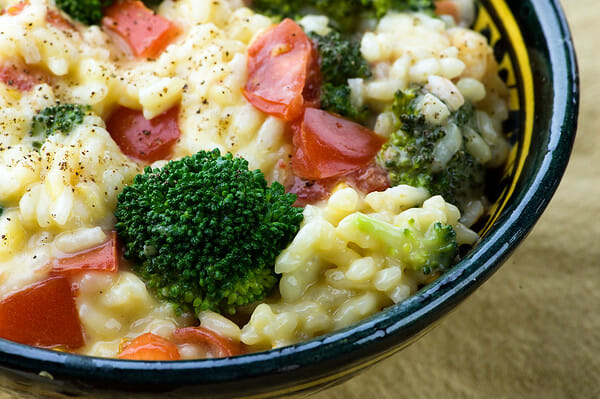 I hit the jackpot this Christmas with cookbooks – everything from the spectacular ALINEA, which is more of a fine art collection of the most glorious food photographs that I have ever seen in my life, to the book and DVD set of HAMBURGER AMERICA, which the Southern husband and I will be cuddling up together to watch very soon. But the one cookbook I cracked open first was from my oldest friend, who is always looking out for my health and well-being. She sent me a copy of MOOSEWOOD RESTAURANT SIMPLE SUPPERS, which is a collection of deliciously healthy, wonderfully simple meals that can be tossed together pretty much within my rigid weekday timeframe of 30 minutes or less.
So naturally the first one I started with was the Welsh Rarebit Risotto. I am a big Welsh Rarebit fan, and the thought of turning this classic comfort food into a risotto…I just couldn't resist. And since it was from the healthy living folks at Moosewood, it included not only the classic rarebit ingredient of tomato, but also some freshly steamed chopped brocolli as well. This risotto uses beer instead of the usual white wine as a starter base, and lots and lots of sharp cheddar cheese to finish. The Moosewood recipe calls for using vegetable broth, but I am a chicken broth girl when it comes to risotto and so that's what I used, and it came out great. But up to you — go for that vegetable broth if you want to be a purist. It cooks up to be cheesy and creamy and comforting, and I am pretty sure the broccoli makes it TOTALLY good for you.
So there you go, with thanks to my wonderful friend and the Moosewood folks!
WELSH RAREBIT RISOTTO, adapted from Moosewood Restaurant Simple Suppers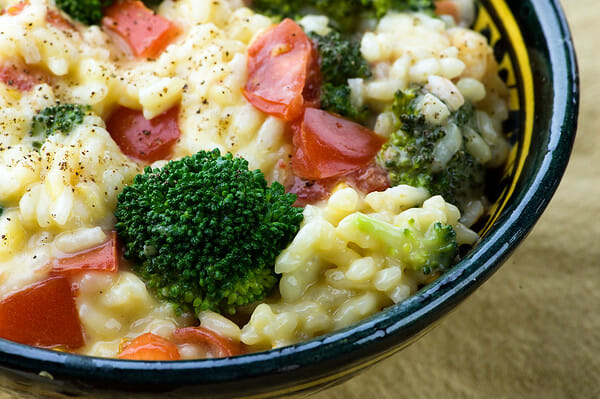 Ingredients
1 quart vegetable or chicken broth
1 tablespoon olive oil
1 1/2 cups arborio rice
12 ounces beer
3 cups chopped, steamed broccoli
1 tablespoon Dijon mustard
4 cups loosely packed shredded sharp Cheddar cheese
2 cups chopped fresh tomatoes
Fresh ground pepper
Directions
1. Bring broth to a boil in a saucepan and keep at a low simmer.
2. Meanwhile, in a second large heavy saucepan, warm olive oil over medium high heat. Add rice and stir until well-coated, then pour in beer and stir until beer is mostly absorbed, about 2-3 minutes.
3. Add broth one cup at a time, stirring often. Let the rice absorb most of the broth before adding the next cup (usually 5 minutes between additions). When the last of the broth is absorbed the rice should be just about done.
4. Add mustard and cheese and stir until cheese is melted. Stir in broccoli and tomatoes, season with pepper and serve.