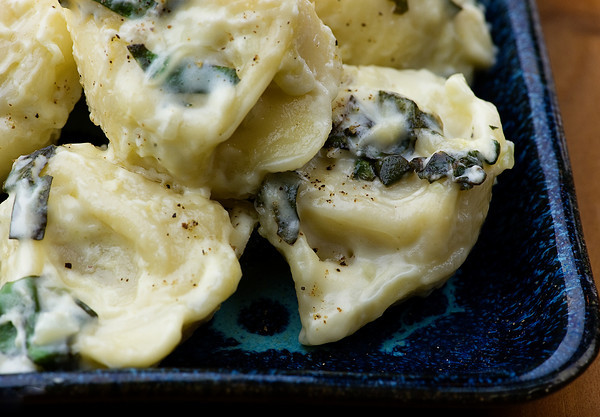 2 shallots, minced
2 cloves garlic, minced
1 tablespoon butter
1 tablespoon flour
¼ cup butter, room temperature
¼ cup white wine
1¼ cups cream
1 cup grated parmesan cheese
1 cup fresh basil, chopped
2 9-ounce packages cheese tortellini, cooked and drained
Fresh ground pepper
1. Saute shallots and garlic in butter in a medium saucepan over medium-high heat until softened, about 3 minutes.
2. Add flour and stir for one more minute. Stir in ¼ cup butter and cook for one more minute. Stir in wine and cook one minute more. Slowly add cream, stirring until smooth.
3. Add cheese and and cook over medium heat until smooth and thick, about 3-5 minutes.
4. Stir in basil, mix well. Add cooked tortellini and stir to coat.
5. Divide among plates and grind fresh pepper over top.