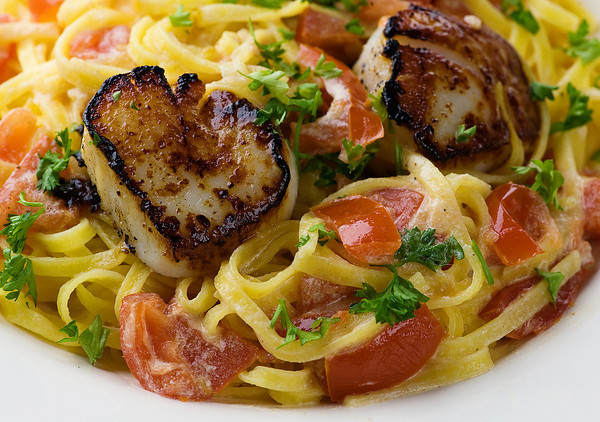 1 cup dry white wine
¼ cup minced shallots
2 tablespoons fresh lime juice
1 tablespoon grated peeled fresh ginger
2 tablespoons whipping cream
1 tablespoon butter, cut into small pieces
⅔ cup chopped seeded plum tomato
¼ teaspoon salt
⅛ teaspoon black pepper
1½ cups hot cooked linguine
Cooking spray
¾ pound large sea scallops
⅛ teaspoon salt
Chopped fresh parsley for garnish
1. Combine first 4 ingredients in a medium skillet; bring to a boil. Cook until reduced to ½ cup (about 5 minutes). Drain mixture through a fine sieve into a bowl, reserving liquid; discard solids.
2. Return wine mixture to skillet. Add cream; cook over medium heat 1 minute. Add butter, stirring until butter melts. Stir in tomato, ¼ teaspoon salt, and pepper. Add linguine; toss well. Cover and keep warm.
3. Heat a large nonstick skillet coated with cooking spray over medium-high heat. Sprinkle scallops with ⅛ teaspoon salt. Arrange scallops in pan; cook 2 minutes on each side or until done. Add scallops to pasta mixture; toss gently to combine. Garnish with parsley.
Recipe adapted from Cooking Light [3]