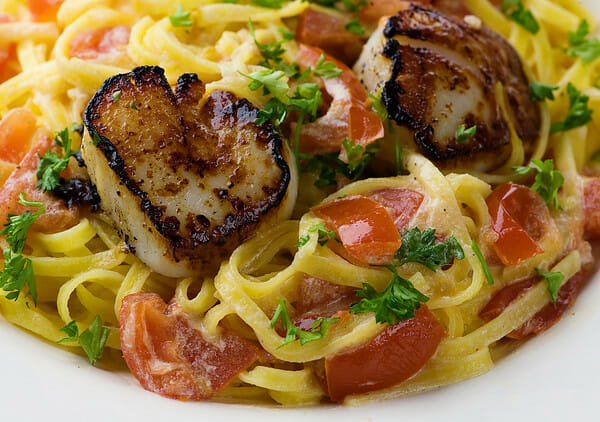 When it comes to seafood, shrimp is one of my very favorites. I just counted and there are 110 (not kidding)  shrimp recipes in my archives of this very blog — and probably three times that number in my recipe idea notebooks.   The Southern husband's favorite seafood is definitely scallops. And right now there are, um, 23 scallop recipes in the blog archives.  The shrimp have the scallops outnumbered 5 to one.
Whoops. Sorry, honey.
So let's try and build up that scallop recipe list, and here's a great one to start with. For this recipe you need those big sea scallops, not the little teeny bay scallops. You don't need that many because they are being combined with a nice filling bed of pasta. (That noise you hear in the background is the Southern husband saying "Yes you DO need that many! More scallops for everyone!!!) But honestly, about four scallops per serving will do you just fine.
This comes with a lovely light sauce, and you'll see that the directions say to mix up the sauce with the linguine before you add in the scallops. This is Very Important Information, because that means each and every linguine strand will be nicely coated with your delicious sauce before you pop the seared scallops on top. Now, the key to good seared scallops is to get your pan nice and hot, pop them in there and then DO NOT TOUCH THEM for the 2 minutes they are searing on each side. That way they develop that nice dark brown seared bit all over.
So there you have it. I'll let you know when I've worked up enough scallop recipes to make it a fair fight with the shrimp!
Print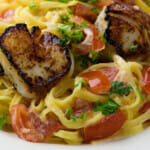 Pan-Seared Scallops on Linguine with Tomato Cream Sauce
---
Yield:

2
Ingredients
1 cup dry white wine
1/4 cup minced shallots
2 tablespoons fresh lime juice
1 tablespoon grated peeled fresh ginger
2 tablespoons whipping cream
1 tablespoon butter, cut into small pieces
2/3 cup chopped seeded plum tomato
1/4 teaspoon salt
1/8 teaspoon black pepper
1 1/2 cups hot cooked linguine
Cooking spray
3/4 pound large sea scallops
1/8 teaspoon salt
Chopped fresh parsley for garnish
---
Instructions
Combine first 4 ingredients in a medium skillet; bring to a boil. Cook until reduced to 1/2 cup (about 5 minutes). Drain mixture through a fine sieve into a bowl, reserving liquid; discard solids.
Return wine mixture to skillet. Add cream; cook over medium heat 1 minute. Add butter, stirring until butter melts. Stir in tomato, 1/4 teaspoon salt, and pepper. Add linguine; toss well. Cover and keep warm.
Heat a large nonstick skillet coated with cooking spray over medium-high heat. Sprinkle scallops with 1/8 teaspoon salt. Arrange scallops in pan; cook 2 minutes on each side or until done. Add scallops to pasta mixture; toss gently to combine. Garnish with parsley.
Recipe adapted from Cooking Light