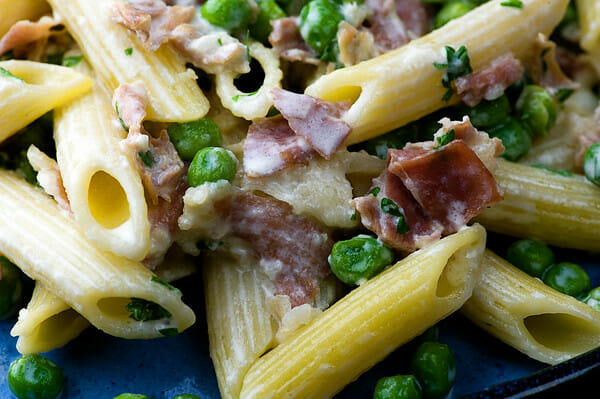 Ingredients
2 tablespoons butter
2 cloves garlic, minced
1-1/2 cups peas
3/4 cup (about 2 oz.) prosciutto, sliced into thin strips*
1 cup milk
1/2 cup light cream
2-2/3 cups (8 oz.) RONZONI PENNE RIGATE, uncooked
1/4 cup grated Parmesan cheese, divided
1/4 cup chopped fresh parsley
Directions
1. In large skillet over medium heat, melt butter; add garlic. Cook for 1 minute.
2. Add milk and cream; heat to boiling. Reduce heat to medium; simmer, uncovered, until mixture is reduced by half, about 6 minutes.
3. Meanwhile, cook pasta according to package directions; drain. Remove sauce from heat; add peas, prosciutto, 3 tablespoons Parmesan cheese and parsley.
4. Toss hot pasta and sauce; sprinkle with remaining cheese.
Notes
*Or substitute bacon or thinly sliced smoked ham.