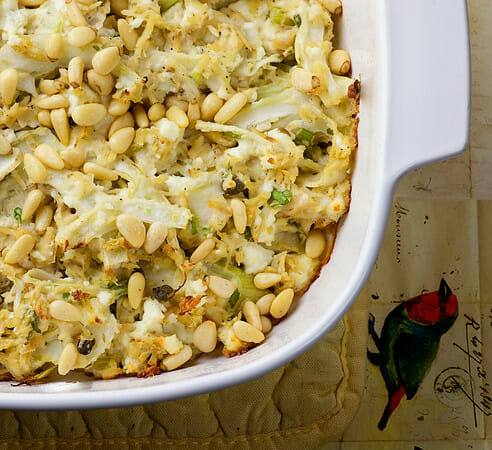 3 cups cooked chicken pieces
3 scallions, cut into 1 inch pieces
½ bulb fennel, cut into halves lengthwise
½ cup mayonnaise
¼ cup sour cream
2 teaspoons flour
1 tablespoon oregano
1 tablespoon lemon juice
¼ teaspoon salt
⅛ teaspoon pepper
½ cup crumbled feta cheese
¼ cup pine nuts
1. Preheat oven to 375. Put chicken and scallions in food processor and chop until coarsely chopped. Put in large mixing bowl.
2. Slice fennel into thin slices, by hand or with food processor slicing disc. Add to mixing bowl.
3. Combine mayo, sour cream, flour, oregano, lemon juice, salt and pepper. Add to mixing bowl, add cheese, and stir all to combine.
4. Spread into greased 8x8 baking pan. Sprinkle with pine nuts and bake for 25 minutes.
5. Serve with pitas, flatbread or your other favorite bread.
{Please close floating ads before printing.}
---
Article printed from Framed Cooks: http://www.framedcooks.com