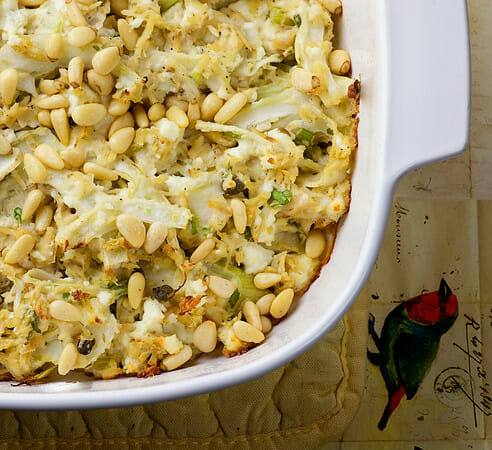 Santa Claus totally, utterly spoiled me this year by leaving one of these under my tree.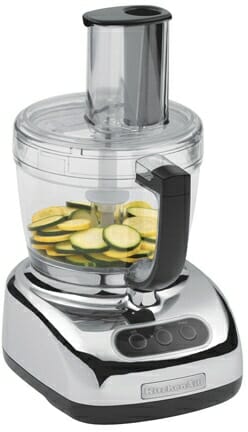 Not with the squash in it, just in case you were wondering.
Anyway, I couldn't WAIT to chop up anything in sight, and luckily for me, the instruction manual included a bunch of recipes that conveniently required that ingredients be chopped and sliced and otherwise generally pulverized. And as I was flipping through the book I spotted one that I hadn't run across before…hot chicken salad. Which called for some cooked chicken, which I happily had some if in my fridge. Let the chopping begin!!
The recipe called for first chopping up the chicken with some scallions with the regular chopping blade. Roger that….chopchopchopchop. Then you put on the slicing blade and slice up some fennel. Sliceslicesliceslice. THEN you get to use the little mini bowl and blade to mix up the dressing, which is a combo of mayonnaise, sour cream, flour, oregano, lemon juice and salt and pepper. Mixmixmixmixmix. Mix it all together with some feta cheese, sprinkle some pine nuts on top, pop in the oven and bake until it is hot, and voila! Hot chicken salad. The recipe said to serve it with pita or flatbread, which I'm sure would be lovely, but I am currently ADDICTED to these little babies:
And so that is what we had. And the whole thing was very tasty (and the Southern husband verified that for me, in case you think I am just speaking through a haze of chopping-induced euphoria.) So there you go…hot chicken salad. Who knew??
HOT CHICKEN SALAD, adapted from the KitchenAid food processor instruction manual

Hot Chicken Salad

Ingredients
3 cups cooked chicken pieces
3 scallions, cut into 1 inch pieces
½ bulb fennel, cut into halves lengthwise
½ cup mayonnaise
¼ cup sour cream
2 teaspoons flour
1 tablespoon oregano
1 tablespoon lemon juice
¼ teaspoon salt
⅛ teaspoon pepper
½ cup crumbled feta cheese
¼ cup pine nuts
Instructions
Preheat oven to 37Put chicken and scallions in food processor and chop until coarsely chopped. Put in large mixing bowl.
Slice fennel into thin slices, by hand or with food processor slicing disc. Add to mixing bowl.
Combine mayo, sour cream, flour, oregano, lemon juice, salt and pepper. Add to mixing bowl, add cheese, and stir all to combine.
Spread into greased 8x8 baking pan. Sprinkle with pine nuts and bake for 25 minutes.
Serve with pitas, flatbread or your other favorite bread.