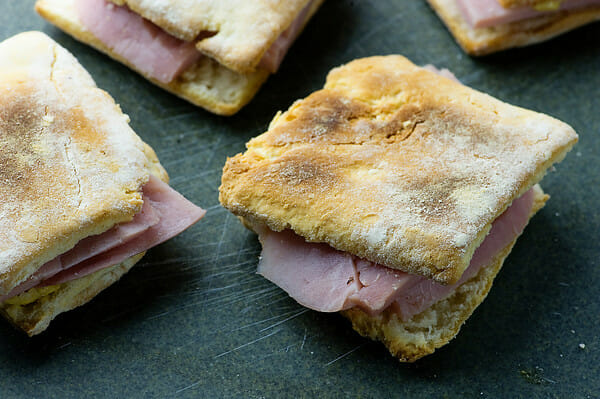 Remember those ham souffles from the other day? Well, as luck would have it, I still had just enough leftover ham from that little escapade to make these scrumptious little ham biscuits. They are easy as easy can be — all you need is some leftover sliced ham, some really, really, really good mustard, and about a half hour to make these rustic little biscuits.
Now the one thing you DO have to make sure of is that you use self-rising flour. If you don't have any on hand never fear, you can make your own like this: click here. But make sure you use it, so your biscuits come out with a nice little rise to them and not like cute little bricks. All you do is mix up that flour with some butter and some buttermilk (and if you have leftover buttermilk make sure you make some of THIS!). Add in some extra flour if your dough is too sticky. Roll it out to a nice rectangle, cut it into biscuit size pieces and pop it in the oven for about 15 minutes or so. Let them cool for about 5 minutes so they are easier to cut open — slice them in half, slather them with that nice mustard, layer on as much ham as you want and voila! Perfect, quick, delicious lunch or light dinner.
Print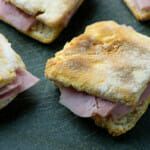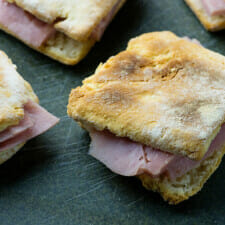 Country Ham Biscuits
---
Ingredients
2 1/2 cups self-rising flour
4 tbsp. butter
1 cup buttermilk
4 oz. thinly sliced cooked
country ham or ham of choice
---
Instructions
Heat oven to 425˚. Sift flour into a large bowl; mix in butter until the mixture has the consistency of cornmeal. Using a wooden spoon, stir in buttermilk to form a dough. Transfer dough to a floured work surface; knead briefly until smooth.
Roll dough into a 1⁄4″-thick rectangle. Cut dough into twelve 4″ x 3″ rectangles; transfer to a baking sheet. Bake until golden brown, about 15–20 minutes. Cool slightly. To serve, slice biscuits, spread with your favorite mustard and stuff with ham.