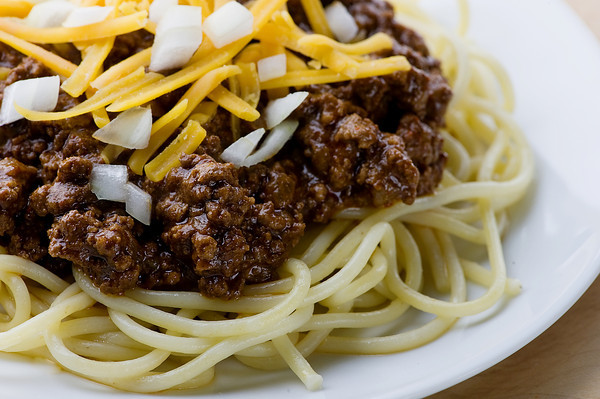 1 tablespoon vegetable oil
1 large chopped onion
2 pounds ground beef
¼ cup chili powder
1 teaspoon ground cinnamon
1 teaspoon ground cumin
¼ teaspoon ground allspice
¼ teaspoon ground cloves
1 bay leaf
½ square unsweetened chocolate
Two 10.5 ounce cans beef broth
One 15 ounce can tomato sauce
2 tablespoons cider vinegar
¼ teaspoon ground cayenne pepper
At least one cup shredded Cheddar cheese
Garnishes: chopped onion, beans, sour cream, guacamole - go crazy!
1.Heat oil in a large saucepan over medium heat. Add onion and cook until tender, about 3-5 minutes.
2. Add ground beef and stir until browned.
3. Add chili powder, cinnamon, cumin, allspice, cloves, bay leaf, chocolate, beef broth, tomato sauce, cider vinegar, and red pepper and stir. Bring to a simmer, turn heat to low and cook for 90 minutes, stirring every 15 minutes or so. If you like your chili on the thicker side, keep simmering it until it is the consistency you want.
4. Remove the bay leaf. Serve over spaghetti and top with LOTS of shredded cheddar cheese for three way, add some chopped onions for four way, add some drained heated kidney beans for five way.
{Please close floating ads before printing.}
---
Article printed from Framed Cooks: http://www.framedcooks.com