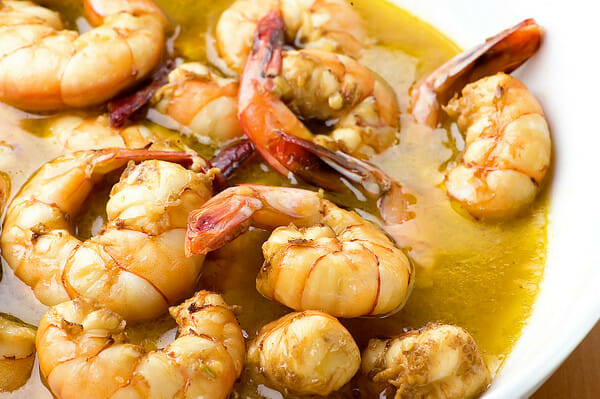 ¼ cup bottled smoke
¼ cup kosher salt
2 pounds large shrimp, peeled and deveined
1 stick melted butter
¼ cup olive oil
¼ cup fresh lemon juice
2 tablespoons Worcestershire sauce
2 tablespoons hot pepper sauce
6 garlic cloves,, minced
Black pepper to taste
Fresh bread for serving
1. Combine 1 quart cold water, the bottled smoke and the salt in large bowl. Stir to dissolve the salt.
2. Add shrimp to the bowl, cover and chill for 30 minutes. Drain, pat the shrimp dry and discard the brine.
3. While brining the shrimp, combine all the remaining ingredients except the bread in a small bowl.
4. Toss the shrimp with the sauce.
5. Heat a large skillet or Dutch oven over high heat until piping hot. Add shrimp and sauce to pot at cook until pink and opaque, about 3-5 minutes. Be careful not to overcook. Serve at once with sauce and fresh bread on the side.