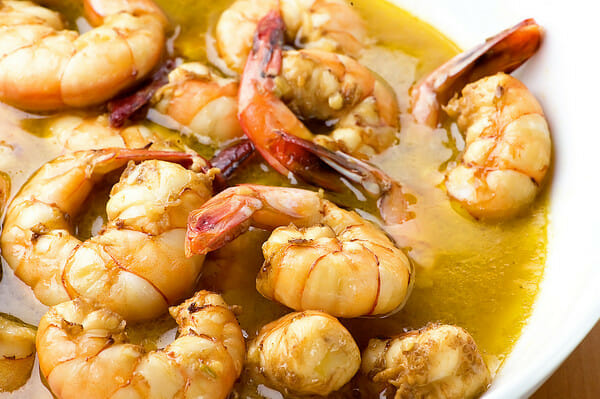 Here comes another fun contest, everybody…but first you have to live through the story, because you KNOW there is always a story with me.
Ah, barbeque. It's one of the Southern husband's reasons for living, and to be perfectly honest, he is always absolutely cheerful about going outside in any sort of weather to fire up the old grill. Ten inches of snow on the ground? No problem whatsover…he's out there, and with a big barbeque anticipation smile on his handsome face. However, I myself always feel just slightly guilty for sending him out into the elements, which is why I was so glad to hear about this book.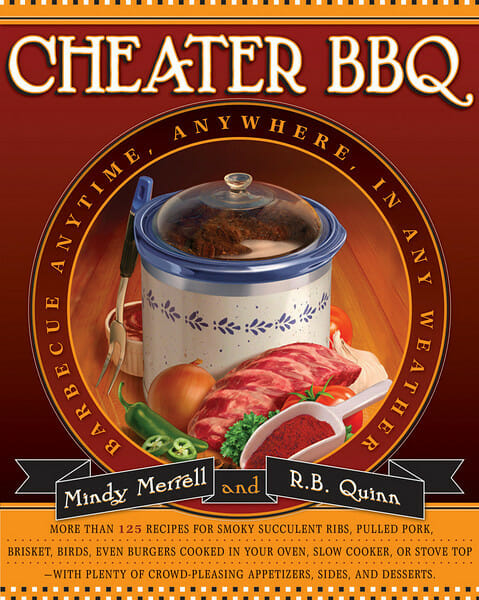 That's right — barbeque WITHOUT the barbeque grill. It sounded too good to be true, especially to someone who lives with a man who practically drives off the road every time we pass a sign that has the words "Pit" and BBQ" on it. (BBQ is a word, right? For right now, let's say that it is.) So I started cruising through the book to see what the possibilities were, and along with all the ribs and burgers and pulled pork and chicken and dry rubs, there it was.
Barbeque Garlic Shrimp.
Now for any of you folks who love New Orleans as much as we do, there is a place there called Pascale's Manale. You take the New Orleans streetcars to get there, and it is always jam-packed, so you wait for your table at the bar, eating raw oysters and drinking ice cold Dixie beer until your table is ready…and when you sit down you order their famous barbeque shrimp, which is spicy and tangy and perfect. The Southern husband and I have eaten more than our fair share of BBQ shrimp there (chased by more than our fair share of ice-cold Dixie) and so when I saw this recipe I had to give it a go.
Oh yes. Just as wonderful as I remember. Use big shrimp, fresh lemon juice and the best butter you can find. I like Kate's Homemade Butter, which you can get at Whole Foods, and no, not just because of the name, although that is probably why I picked it up in the first place. don'tbe frightened by the liquid smoke – you can find it right next to the barbeque sauce in your supermarket, or if you want to get really fancy you can also get it at Williams Sonoma. Make sure you have some really nice fresh crusty bread to mop up the sauce. And if you have any Dixie beer on hand, not only should you drink it with dinner, but you should call me up right now and invite me over.
So now I have your attention, right? Good, because I have a couple of these awesome cookbooks to give away to any of you interested in doing a little barbeque cheating on your own. Just leave me a comment below telling me your own favorite thing to make on the grill and you will be automatically entered in a random drawing for your very own copy. (For my email subscribers — click on the title of this post and it will take you to the website where you can leave your comment.) I'll announce the very lucky barbeque-loving winners on Saturday, January 9. Until then, here's another look at the deliciousness, and then the recipe. YUM!!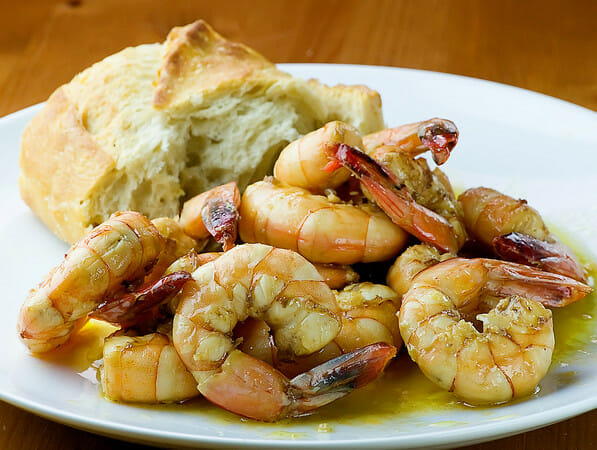 BBQ GARLIC SHRIMP, adapted from CHEATER BBQ 
Print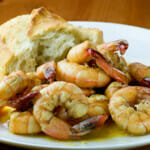 Cheater's Barbeque Garlic Shrimp and a Cookbook Contest!
---
Yield: 6 servings
Ingredients
1/4 cup bottled smoke
1/4 cup kosher salt
2 pounds large shrimp, peeled and deveined
1 stick melted butter
1/4 cup olive oil
1/4 cup fresh lemon juice
2 tablespoons Worcestershire sauce
2 tablespoons hot pepper sauce
6 garlic cloves,, minced
Black pepper to taste
Fresh bread for serving
---
Instructions
Combine 1 quart cold water, the bottled smoke and the salt in large bowl. Stir to dissolve the salt.
Add shrimp to the bowl, cover and chill for 30 minutes. Drain, pat the shrimp dry and discard the brine.
While brining the shrimp, combine all the remaining ingredients except the bread in a small bowl.
Toss the shrimp with the sauce.
Heat a large skillet or Dutch oven over high heat until piping hot. Add shrimp and sauce to pot at cook until pink and opaque, about 3-5 minutes. Be careful not to overcook. Serve at once with sauce and fresh bread on the side.