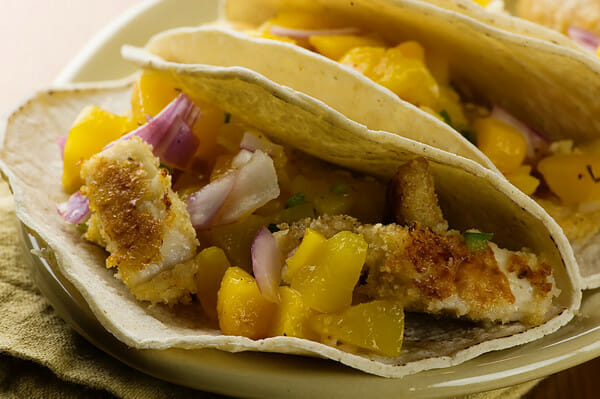 I'll admit, I am not a big fish person. I do love most shellfish (ah, lobster!!), but when it comes to fish fish, I tread very carefully. Even though I know it is oh, so good for you. But over the years I have found some types of fish that I really do like, and one of them is tilapia. It's light and mild, so mild in fact that it needs to be paired with something that can dress it up and give it some pizzazz…and this great little taco dish is just the ticket.
The tilapia itself is cut up into strips, breaded and popped into the oven for a a few minutes just to cook it up and brown the bread crumbs. The real prep for this dish is the fabulous peach salsa that goes with it. Chopped peaches, red onion, lime juice, jalapeno…sweet and spicy and wonderful! You tuck the tilapia strips into a nice warm tortilla, spoon some peach salsa over the top, and you are in fish taco heaven.
Now, naturally I did not decide to make this until it was completely not peach season…not even my beloved Fairway had any fresh peaches. But happily, they did have frozen peach slices which in the long run actually turned out to be better. They defrosted into already peeled slices, and all I had to do was chop them up. Way easier than battling with a fresh peach…I don't know about you, but I still haven't learned the easy secret way of getting a peach pit OUT of the peach without completely mangling it. (I do know the avocado pit trick). I'm sure there absolutely is a peach pit trick and one day I will learn it. One day. You have to have goals in life, right?
Meantime, here's the taco recipe, adapted from Cooking Light.
TILAPIA TACOS WITH PEACH SALSA

Tilapia Tacos with Peach Salsa

Ingredients

Salsa
2 cups chopped peaches
½ cup chopped red onion
1 tablespoon fresh lime juice
½ teaspoon kosher salt
⅛ teaspoon red pepper
1 jalapeno, seeded and finely chopped (wear gloves!!)
1 minced garlic clove
Fish and tacos:
½ cup breadcrumbs (panko crumbs are great)
½ teaspoon kosher salt
¼ teaspoon red pepper
1 pound tilapia, cut into 2 inch strips
8 corn tortillas
Instructions
Combine all salsa ingredients and let stand at room temp for 3o minutes
Meanwhile, preheat oven to 37Combine crumbs, salt and pepper in medium bowl. Add fish strips and toss to coat.
Bake fish strips on greased cookie sheet for 10 minutes, turning once during cooking.
Heat tortillas in microwave for 30 seconds. Divide fish among tortillas, and spoon salsa over the top