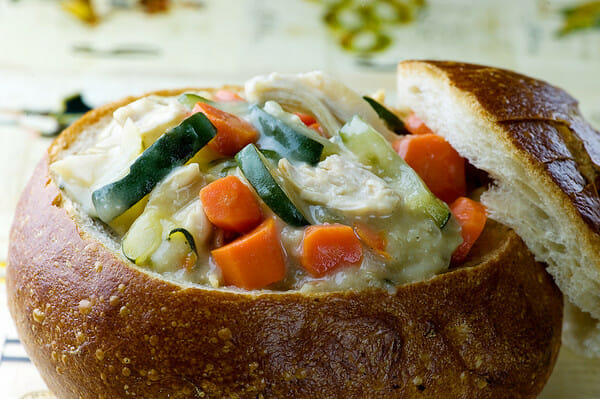 Serves: serves 2 expand as needed!
¼ cup flour
1 cup milk
½ cup chicken broth
½ cup white wine
1 tablespoon olive oil
½ cup onion
2 boneless chicken breast halves
1 cup sliced carrot
1 cup sliced zucchini
1 tablespoon chopped fresh tarragon, or 1 teaspoon dried
1 teaspoon poultry seasoning
½ teaspoon pepper
2 bread bowls
1. Put flour in bowl, slowly add milk, whisking until combined. Add broth and wine.
2. Heat oil in large saucepan over medium heat. Add onion and chicken to pan and saute 2 minutes. Stir in carrots, zucchini, tarragon and spices. Cook for 2 minutes, stirring.
3. Pour in flour mixture, bring to a boil, reduce heat and simmer for 10 minutes.
4. When almost done, take out chicken breasts and shred into bite size pieces with two forks. Return to pot.
5. Cut the tops off of the bread bowls, leaving a one inch border around the edges. Scoop out the bread on the inside and set aside (this makes great bread crumbs for future recipes).
6. Warm the bread bowls in the microwave for 30 seconds each.
7. Season chicken stew as needed with salt and pepper and ladle into warm bread bowls. Serve with the bread bowl top on the side.