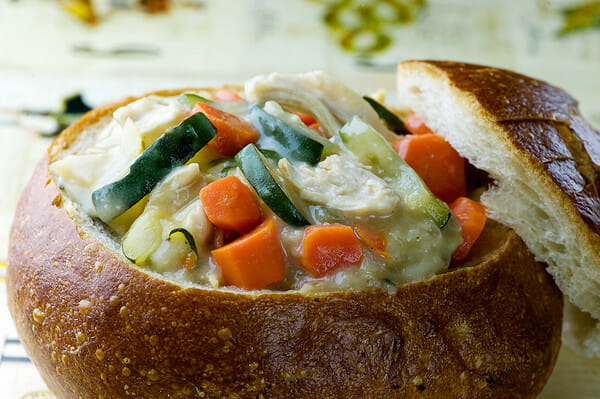 Now in the great scheme of things, life is pretty good when you get to actually eat the serving dishes, don't you think? This is a quick quick quick recipe that has the extra added advantage of no plates to put in the dishwasher afterwards, because they will all have been scarfed down with the main course.This is basically a really fast chicken stew that is cooked in a thick white wine sauce with a few nice veggies tossed in. I used carrots and zucchini but you should feel free to improvise. Peas, celery, artichoke hearts, spinach…go crazy. A couple of tips for this one:
Cook the chicken breasts whole, and when they are almost done, pull them out, shred them with two forks into bite size pieces, and toss them back in for a minute or two. Shredding them will give you some nice rough edges on the chicken that will catch the sauce — if you cut them up with a knife they will have smooth edges that won't work as well.
2. The best bread bowls in the world are yours for the asking at Panera. They make sourdough ones that are the PERFECT size and texture for this recipe. If you are an obsessive advance-planner like me, you can go to Panera for lunch and pick up your dinner bread bowls at the same time. Or just send your Southern husband to go get them.
3. So there you go…a perfect, comforting mid-winter dinner. Or lunch. Or whatever. I certainly have been known to eat dinner for breakfast, and vice versa. Happy bread bowls!
TARRAGON CHICKEN IN BREAD BOWLS
Print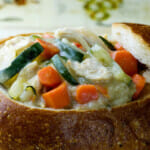 Tarragon Chicken in Bread Bowls
---
Yield: serves 2 expand as needed!
Ingredients
1/4 cup flour
1 cup milk
1/2 cup chicken broth
1/2 cup white wine
1 tablespoon olive oil
1/2 cup onion
2 boneless chicken breast halves
1 cup sliced carrot
1 cup sliced zucchini
1 tablespoon chopped fresh tarragon, or 1 teaspoon dried
1 teaspoon poultry seasoning
1/2 teaspoon pepper
2 bread bowls
---
Instructions
Put flour in bowl, slowly add milk, whisking until combined. Add broth and wine.
Heat oil in large saucepan over medium heat. Add onion and chicken to pan and saute 2 minutes. Stir in carrots, zucchini, tarragon and spices. Cook for 2 minutes, stirring.
Pour in flour mixture, bring to a boil, reduce heat and simmer for 10 minutes.
When almost done, take out chicken breasts and shred into bite size pieces with two forks. Return to pot.
Cut the tops off of the bread bowls, leaving a one inch border around the edges. Scoop out the bread on the inside and set aside (this makes great bread crumbs for future recipes).
Warm the bread bowls in the microwave for 30 seconds each.
Season chicken stew as needed with salt and pepper and ladle into warm bread bowls. Serve with the bread bowl top on the side.