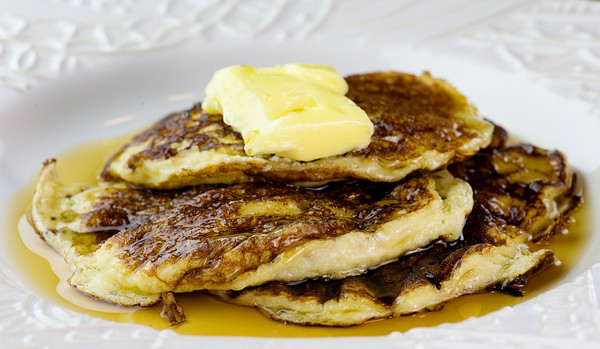 I've been trying to pace myself going through the new cookbook by the Pioneer Woman so as not to make Every Single Recipe In The Book in the first two weeks. Even though my ravenous Southern husband keeps leaving it open to the page with the recipe for ribeye steak with whiskey cream sauce. This fabulous cookbook is like a box of Godiva chocolate…you need to work your way through the wonderfulness with patience, and restraint and…oh, never mind, pass the sour cream pancakes.
Now I am embarrassed to admit this, but when I first read this recipe I thought — oh no! there is a MISTAKE in this recipe!!! Because it only calls for 7 tablespoons of flour. For the entire batch of pancakes. I mean really, when have you ever seen any recipe call for 7 tablespoons of flour, especially a pancake recipe? I'm used to measuring out the flour (okay, the Bisquick if you are going to get all technical on me) by the cupful, not the tablespoonful. But that's what it said.
Hmm.
The Pioneer Woman has never let me down, not once, not ever. So I measured out those 7 tablespoons along with all the other goodies in this pancake batter, and fired up the griddle. And you know what? These were the lightest, fluffiest, airiest pancakes I have ever had in my life. These are not your garden variety pancakes, folks. They are like little clouds. Okay, they are like large clouds…in pancake form. They were GREAT.
A bit of advice for the novice Sour Cream Pancake maker: this batter is much lighter and more delicate than your regular pancake, and they seem to cook a little faster. When you flip them, the top of the pancake will still be very liquid, so it helps if you make them on the small side, and flip 'em fast. And keep the griddle a little bit lower than your normal pancake heat. These pancakes are sensitive and delicate. And I mean that in the best possible way.
Okay! THE PIONEER WOMAN COOKS! Go buy it for yourself for the holidays, or at the very least leave major hints around the house. And in the meantime…sour cream pancakes, and I solemnly swear I will never doubt the Pioneer Woman again.
SOUR CREAM PANCAKES, from The Pioneer Woman Cooks
Sour Cream Pancakes
Ingredients
1 cup sour cream
7 tablespoons flour
1 tablespoon sugar
1 teaspoon baking soda
½ teaspoon salt
2 large eggs
½ teaspoon vanilla
Butter
Maple syrup
Instructions
Place griddle or frying pan over medium low heat to get hot.
Put sour cream, flour, sugar, baking soda and salt in medium bowl. Stir very gently until just combined
Whisk eggs in separate bowl and add vanilla.
Pour egg mixture into sour cream mixture and stir gently.
Melt a tablespoon of butter on skillet.
Pour the batter onto skillet ⅛ cup at a time.
Cook for ½ minutes, then carefully flip and cook for another 45 seconds. Remove to plate and serve with butter and maple syrup.