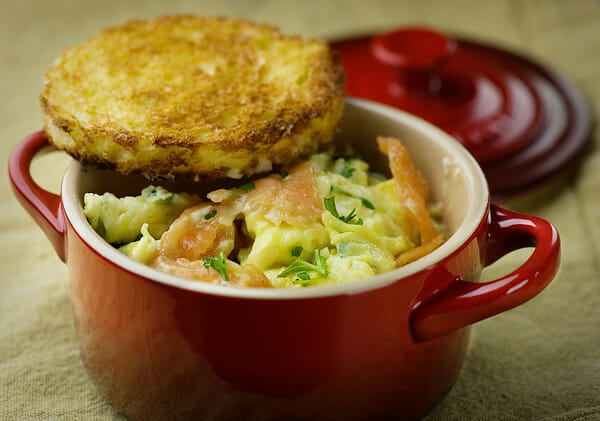 8 large eggs
8 slices challah or brioche bread
4 pieces smoked salmon, cut into ribbons
3 tablespoons milk
4 tablespoons chopped fresh herbs (chives, tarragon, parsley)
½ stick butter
4 ounces cream cheese
Salt and pepper
1. Heat 4 serving dishes in 300 degree oven while preparing eggs
2. Cut circles out of bread slices with cookie cutter or top of glass. Toast until golden.
3. Whisk eggs with milk and half of the herbs.
4. Melt butter in frying pan over low flame. Add eggs and cream cheese and cook for 4 minutes, stirring from time to time. Add salmon and cook without stirring for one more minute. Salt and pepper to taste.
5. Put one toast circle on each plate or in each bowl. Divide eggs among plates. Scatter remaining herbs on eggs and top with remaining toast circle. Serve immediately.