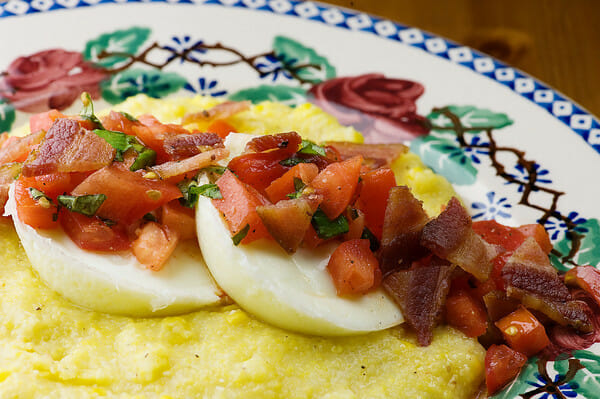 1 cup chopped fresh plum tomatos
1 tablespoon olive oil
½ teaspoon salt
A few shakes of Tabasco sauce
1 tablespoon fresh basil or cilantro -- your choice
4 cups water
1 cup cornmeal
1½ cups frozen corn, thawed
1 teaspoon salt
½ cup grated Parmesan cheese
1 tablespoon butter
Fresh ground pepper
8 eggs
4 slices bacon, cooked and chopped
1. Combine all salsa ingredients and set aside
2. Prepare polenta by bringing water to a boil in a medium saucepan. Add cornmeal in a steady stream, whisking as you go. Add salt, reduce heat to low and simmer until thickened, about 15 minutes, stirring frequently.
3. Add butter, corn, cheese and pepper. Keep warm while you poach the eggs.
4. Poach eggs, using the method of your choice. You can also soft boil them if you like that better.
5. Assemble plates as follows: Spoon out a circle of polenta. Top with two eggs. Spoon salsa over eggs. Scatter bacon over salsa. Mmmmmmmmm.......