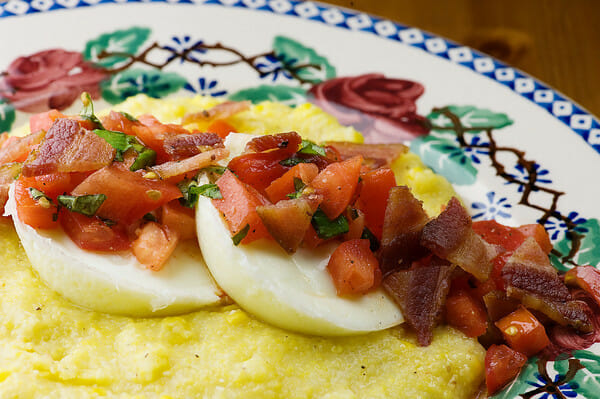 I don't know about you, but this is the time of year when I, um, eat a lot. There's no other way to say it. Holiday parties, birthday lunches (both the teenager and I have December birthdays), Christmas cookies…need I go on? So whenever there is a chance to make a relatively light dinner, I go for it. But it still needs to be fun and festive, because 'tis the season, right?As those of you who know me already know, I am a big poached egg fan, and anything that resembles grits is just fine with the Southern husband. And polenta is very grits-like. I may have actually told him these WERE grits. Maybe. I can't remember, my mind is fogged with all the Christmas cards I still have to write. Anyway, this is a light and quick supper that involves poaching up a few eggs (get out those poach podsI told you about! Poached eggs in 4 minutes!), and serving them over a bed of parmesan cheese polenta with a quick fresh tomato salsa scattered on top. And, um, a little bacon. I have been very good about the bacon lately, and it IS the holiday season after all.
So keep this one in mind for the next time you actually don't have someplace to go at dinnertime and are looking for a quick and light supper to have in between all the eggnog. Which reminds me, I am definitely making eggnog french toast one of these days. And eggnog fudge. But for now, here are some delicious, nutritious poached eggs for you.

Print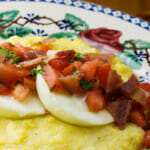 Poached Eggs with Polenta and Fresh Salsa
---
Yield: 4 servings
Ingredients
Salsa:
1 cup chopped fresh plum tomatos
1 tablespoon olive oil
1/2 teaspoon salt
A few shakes of Tabasco sauce
1 tablespoon fresh basil or cilantro — your choice
Polenta:
4 cups water
1 cup cornmeal
1 1/2 cups frozen corn, thawed
1 teaspoon salt
1/2 cup grated Parmesan cheese
1 tablespoon butter
Fresh ground pepper
8 eggs
4 slices bacon, cooked and chopped
---
Instructions
Combine all salsa ingredients and set aside
Prepare polenta by bringing water to a boil in a medium saucepan. Add cornmeal in a steady stream, whisking as you go. Add salt, reduce heat to low and simmer until thickened, about 15 minutes, stirring frequently.
Add butter, corn, cheese and pepper. Keep warm while you poach the eggs.
Poach eggs, using the method of your choice. You can also soft boil them if you like that better.
Assemble plates as follows: Spoon out a circle of polenta. Top with two eggs. Spoon salsa over eggs. Scatter bacon over salsa. Mmmmmmmmm…….