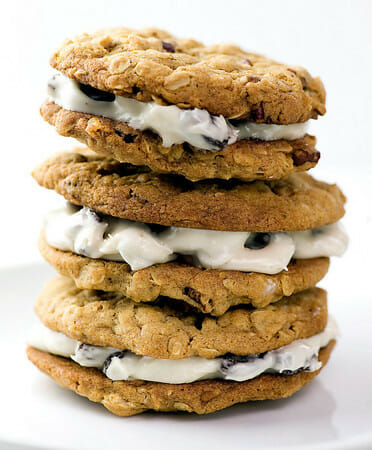 ½ cup softened butter
½ cup shortening
¼ cup light corn syrup
1¼ cups brown sugar
1 large egg
1 teaspoon almond extract
1½ cups flour
1 teaspoon baking soda
1 teaspoon cinnamon
½ teaspoon salt
½ teaspoon ground cloves
2 cups regular uncooked oats
¾ cups chopped pecans
1 3 oz package cream cheese, softened
1 tablespoon milk
2 tablespoons dark rum
¾ teaspoon vanilla
⅛ teaspoon salt
1 1pound package confectioner's sugar
1½ cups raisins
1. Preheat oven to 375.
2. Beat butter, shortening, corn syrup and sugar on medium speed until fluffy. Add egg and almond extract and beat until blended
3. Combine flour, baking soda, cinnamon, salt and cloves and gradually add to butter mixture. Stir in oats and pecans.
4. Shape dough into 1½ inch balls and place 2 inches apart on parchment lined baking sheets. Press down on each ball to flatten slightly.
5. Bake for 10-12 minutes until golden. Cool on baking sheet for 3 minutes, then remove to wire rack and cool completely.
6. While cookies are cooling, make rum raisin filling. Beat cream cheese at medium speed until creamy Add milk, rum, vanilla and salt and beat until blended
7. Gradually add powdered sugar, beating at low speed until completely combined. Stir in raisins.
8. Spread 2-3 tablespoons of filling on cookie bottom and sandwich with another cookie. Repeat until all cookies are used.
9. Close your eyes, take a bite and smile a really, really big smile.