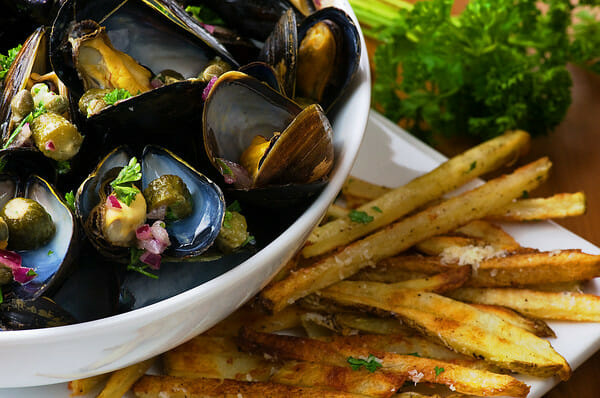 ¼ cup finely chopped red onion
¼ cup chopped fresh parsley
1 tablespoon minced fresh tarragon
¼ cup sliced cornichons
1 tablespoon white wine vinegar
2 teaspoons capers
1½ teaspoons extravirgin olive oil
1 teaspoon Dijon mustard
1 garlic clove, minced
1 cup dry white wine
1 (8-ounce) bottle clam juice
48 mussels (about 2 pounds), scrubbed and debearded
2 baking potatoes, cut into ¼ inch strips with skin left on
Olive oil
¼ cup freshly grated parmesan cheese
¼ cup chopped fresh parsley
Coarse salt and freshly ground pepper
1. Preheat oven to 500.
2. Toss potato strips with olive oil and lay on greased baking pan. Bake for 10 minutes, remove and toss, bake for another 15 minutes or until golden.
3. Meanwhile, combine first 9 ingredients in a small bowl; set aside.
4. Bring wine and clam juice to a boil in a Dutch oven. Add mussels; cover and cook 2 minutes or until shells open. Remove mussels from pan with a slotted spoon; discard any unopened shells. Keep warm.
5. Bring wine mixture to a boil over high heat; cook until reduced to ⅓ cup (about 15 minutes). Pour liquid over mussels. Add the cornichon mixture; toss.
6. Serve with parmesan frites and a bowl on the table for the empty shells.