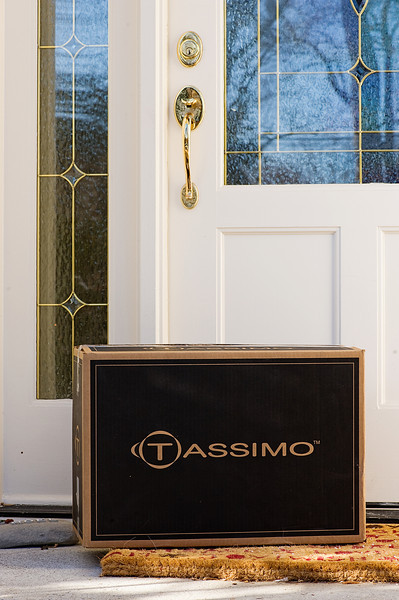 Okay you last minute procrastinating Christmas shoppers, have I got an got an idea for YOU. Yesterday I came home from my maniacal last minute shopping and this was at my front door. The awesome folks at Tassimo had sent me a gift of my very own Tassimo Hot Beverage System, and there it was, just waiting on my doormat.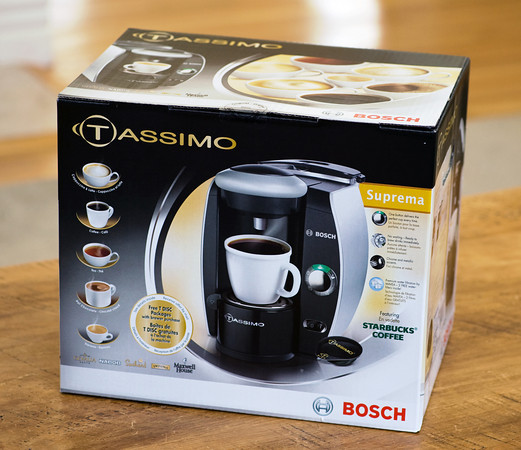 Now, I've seen these things before — coffee makers where you drop in the special pod and press a button and it makes a single cup, and I gotta tell you, I have not been tempted. First of all, I am not a coffee drinker (although the Southern husband does love a good cappuccino now and then). And us dedicated tea drinkers have gotten the whole single serving thing down to a science: drop a tea bag into hot water and voila. But a gift is a gift, and I wasted no time getting the box open. And right on the box were all these tempting looking cups of not just coffee, but other stuff that the teenager and I actually love and drive to far flung places to get. Chai tea latte. Hot chocolate. And yes, cappucino. Hmm.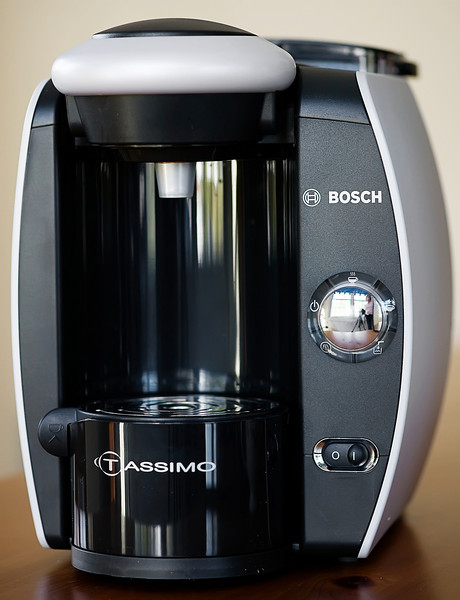 So we pulled it out and set it up, which took about 90 seconds. Sleek-looking, right? The water receptacle is in the back, and comes off the machine so you can fill it in the sink (as opposed to pouring the water directly into the machine and spilling some of it on the counter, if you are ME.) And if you look very closely at the metal control buttons on the right, you can see me with my tripod. Someday soon I will figure out how not to take pictures with my reflection in them.
Also in the box were three packages that looked like this: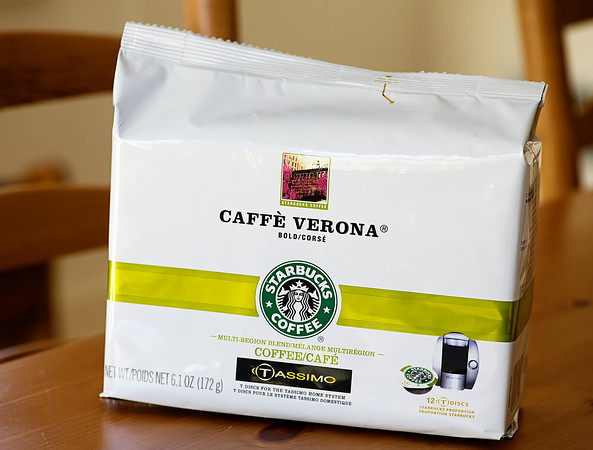 The other two were cappuchino and chai tea. I'd show you what those looked like but in my extreme excitement I ripped open the chai tea package immediately upon reading the words "chai tea" on the package. I'm sorry, but I have no self-control when it comes to some things.
Inside these packages are these adorable little pods.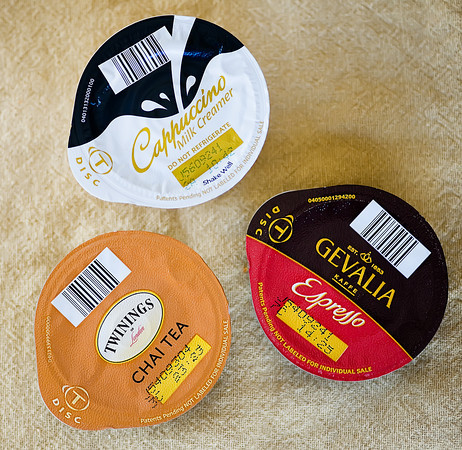 And here is the wild part. See the bar codes on them? The machine reads the bar code on whatever pod you put in there, and it KNOWS what you are making and how long to brew it for, how much water to use, etc etc etc. Better living through science, people! In action in my kitchen!
OK, time to get down to business. I popped in the chai tea pod, selected my most elegant cup and put it in place.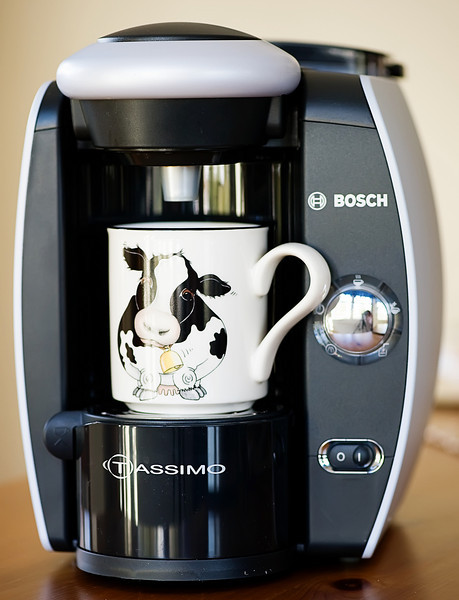 Okay, so I DO have more elegant cups. I really do.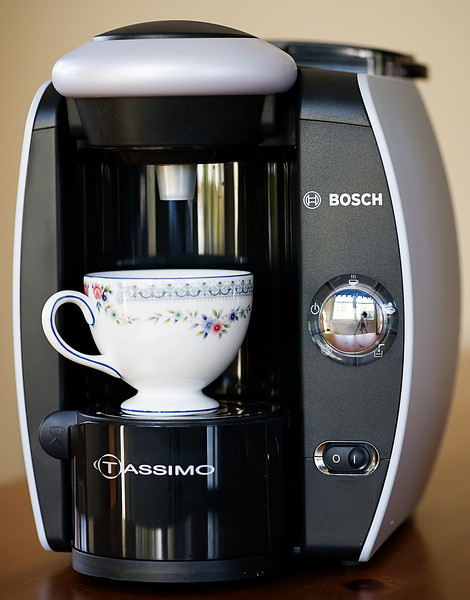 But I like my cow cup, and I gotta be me. Here's the back of it, by the way. It's one of the reasons I love it so.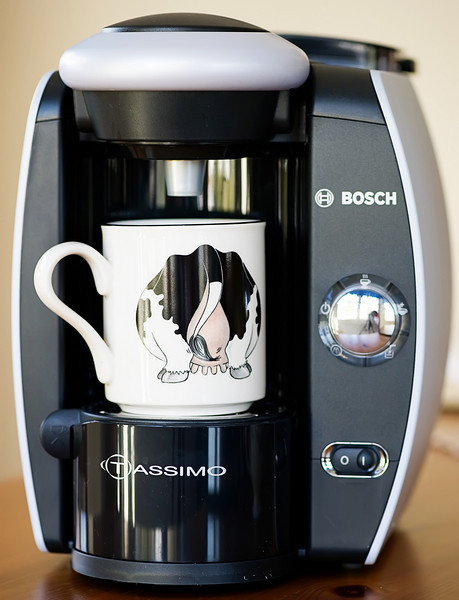 I pushed the button. It whirred and hummed and one minute later my cup was half full of tea. Then I popped in the milk pod. More whirring. More humming. Best of all, frothing and steaming…and there it was.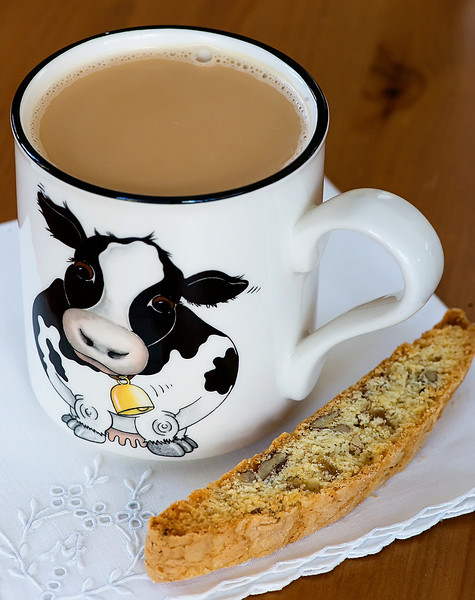 One of the best cups of chai tea I have ever had. In two minutes. And you are talking to a girl who has spent an unmentionable amount of money in Starbucks saying "tall skim extra hot chai, please?" I even made the Southern husband taste it to make sure I wasn't in some dream state brought on by my fascination with the whole bar code thing, and he agreed…and then asked for a cappuchino, stat. Then my friend D arrived on the scene, and he is a die-hard black coffee drinker. We popped in one of those Starbucks Caffe Verona pods and 1 minute later…another believer.
So if you are still looking for that last minute Christmas gift….Tassimo Home Brewing System. I know you can get them at Bed Bath And Beyond, because I already sent the Southern husband over there to get us some hot chocolate pods for the teenager. (Yes, I sent him to the mall on December 23. That's the kind of ruthless woman I am. ) You can also go to the Tassimo Direct website where they will tell you everything you ever wanted to know about how it works, where to buy them, how to never run out of chai latte pods, etc. And hey — if you get any of those great gift certificate cards and don't know what to spend it on…
That's all I've got for you today…except wherever you are, I hope you have a warm, happy, delicious holiday!