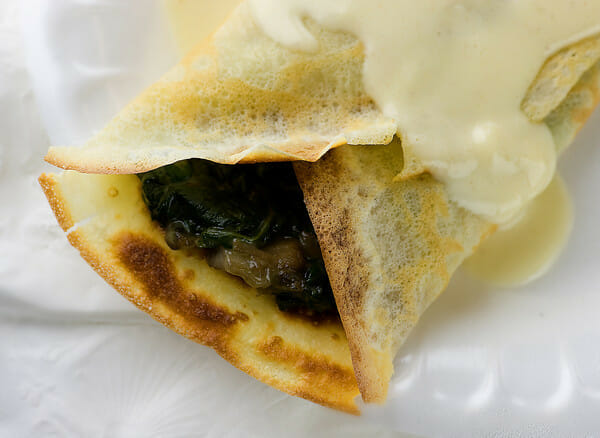 s those of you who read yesterday's post on Creme Brulee already know, I recently got to attend and photograph my third "Meet the Chef" event at our local library. Not only did the wonderful Chef Rosemary Smith teach us how to make creme brulee, she also made us not one but TWO kinds of crepes…the spinach one you see above, and this delectable looking chocolate banana number.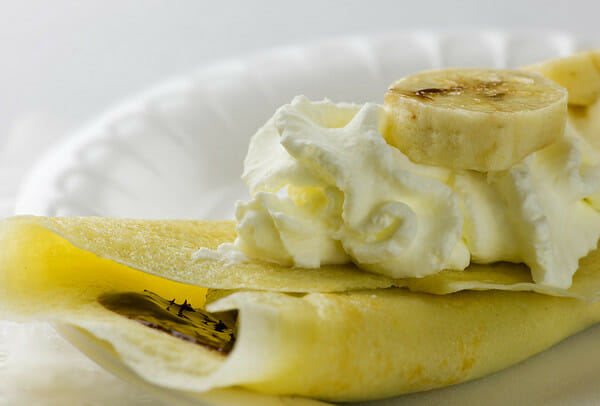 Just as a quick reminder, Rosemary is from the new and lovely La Vie En Rose Bakery and Cafe. Doesn't that name just make you want to go there and order some tea and scones?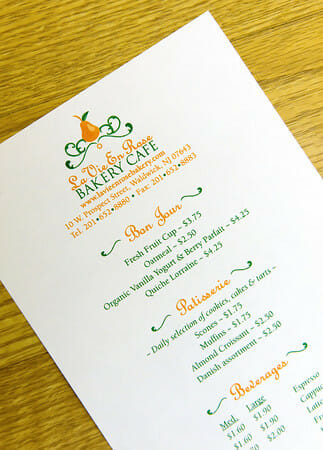 Anyway. After she finished up the creme brulee, we were on to the crepes. Crepes are one of those  intimidating sounding things that seem like they should be handled by licensed professionals, but Rosemary promised us it would be fun, and after the creme brulee we were true believers.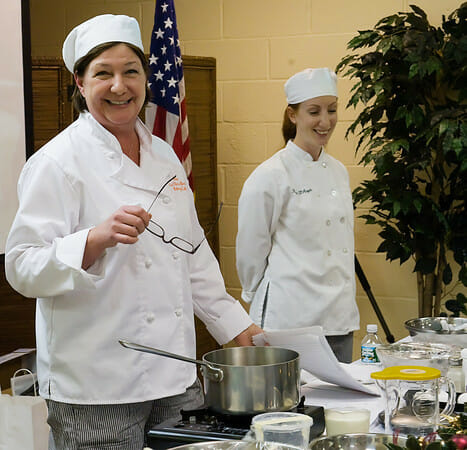 We started with flour. So far, so good..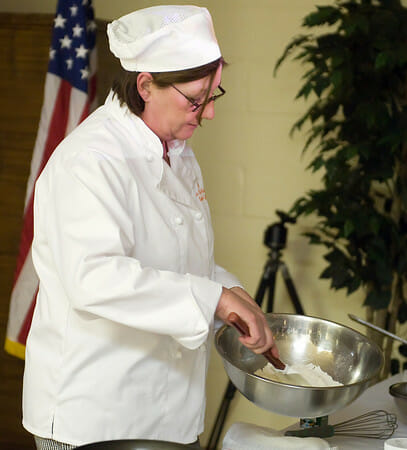 Add some eggs to it….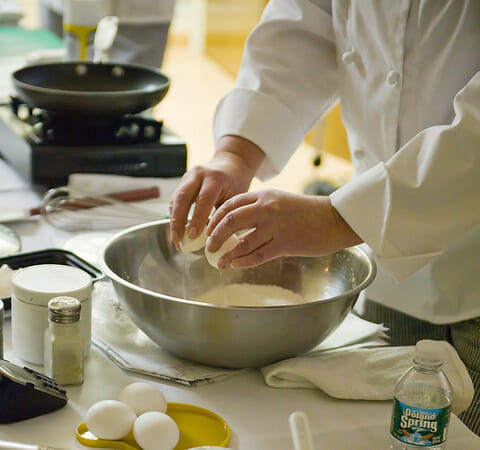 And mix that baby up good. Hey…crepes are easy!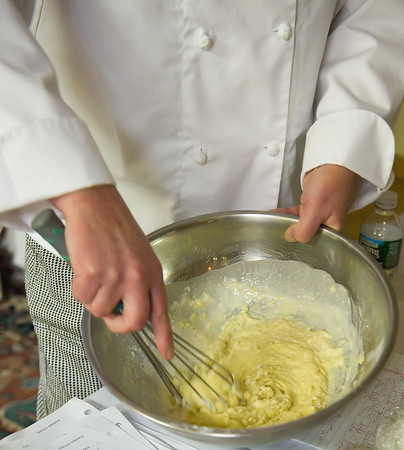 Then add some milk, whisk whisk whisk…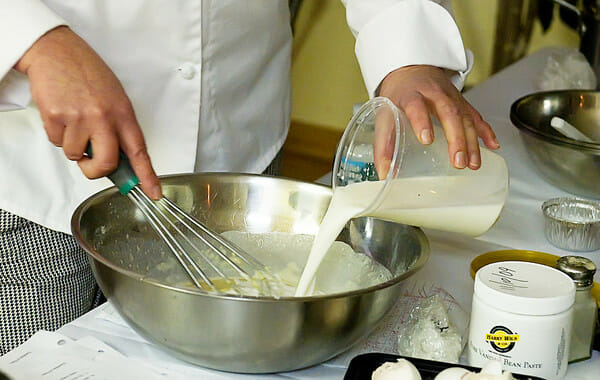 I love how this looks. Creamy and comforting, and sitting on top of Rosemary's recipe, which is usually where my OWN recipes are when I need them. Under something.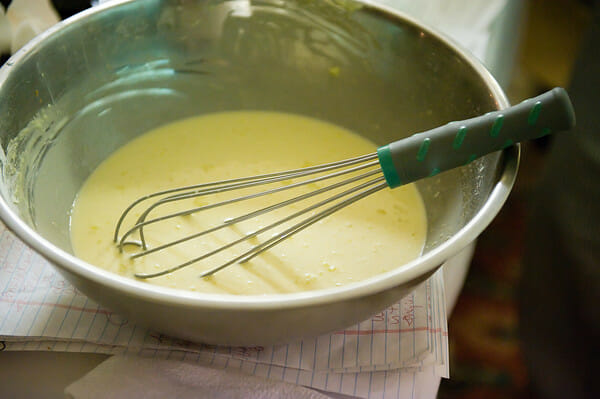 Now comes the scary part. The cooking of the paper-thin, delicate, needs to be flipped over without tearing into pieces crepe.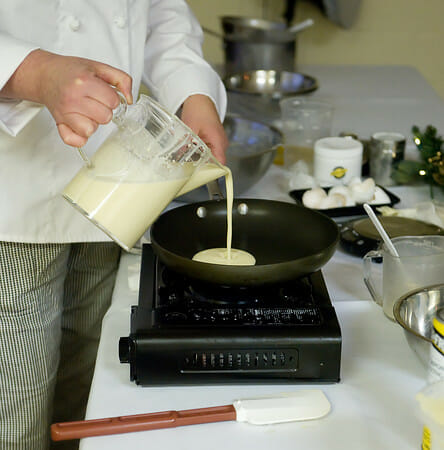 Rose explained that one of the tricks was to actually do the lifting and flipping with your fingers. Really? Yes, really…she did it before our very eyes. Lift and flip.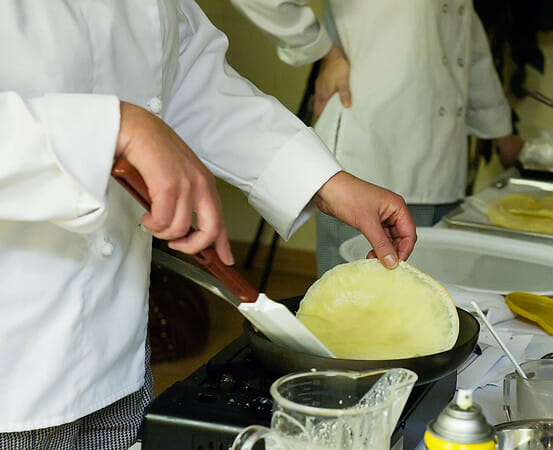 After that, the rest is easy. The spinach crepes were spread with a mixture of spinach and mushroom filling…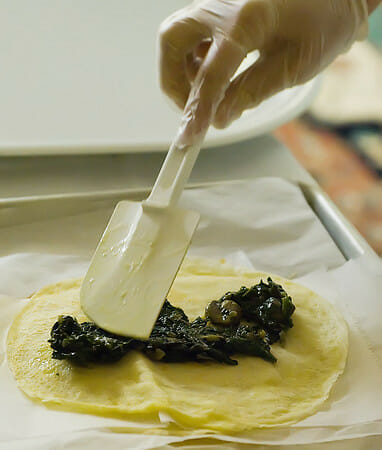 And folded over into adorable crepe bundles.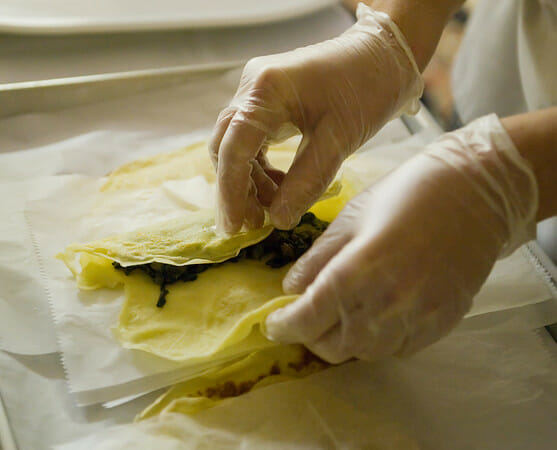 The banana crepes were spread with chocolate (Nutella would be ideal for this) and sprinkled with bananas. Getting HUNGRY???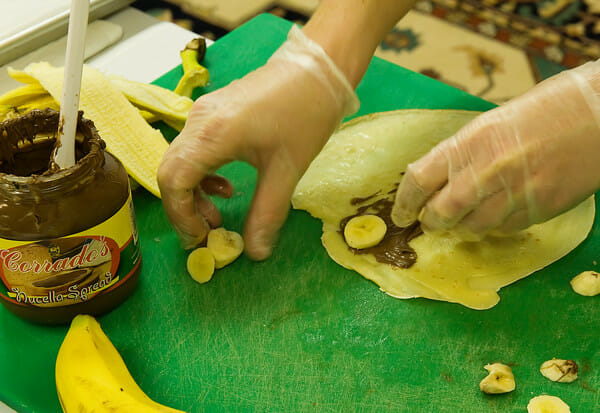 And that was it — beautiful, perfect crepes, right before our very eyes!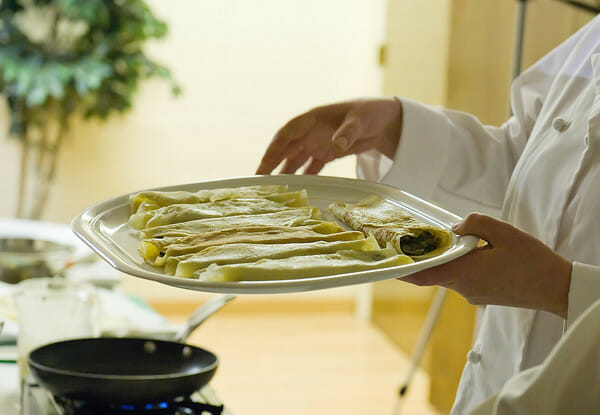 All that was left was to spoon on a little sauce (cream sauce for the spinach crepes, whipped cream for the banana crepes)….and to EAT them!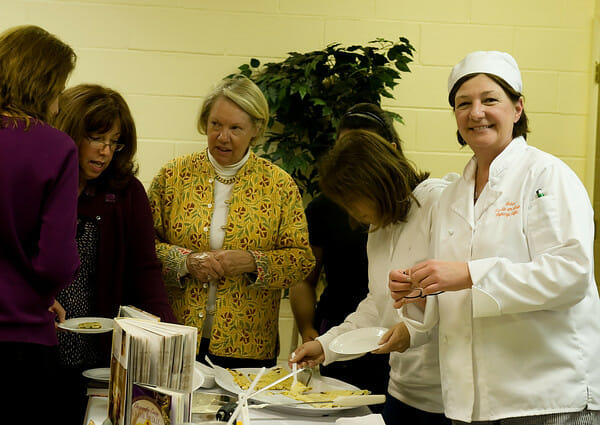 So there you go. Now that Rosemary has shown us the secrets of crepe-making, we can let our imaginations run wild on the filling…the sky is the limit. I'm thinking vanilla pudding on the inside and strawberry sauce on the outside. What about you? In the meantime, here's the basic crepe recipe…and thanks, Rosemary! See you at La Vie En Rose!
Crepes!
Ingredients
1 cup milk
½ cup flour
2 eggs
pinch of salt
1½ tablespoons sugar
1 tablespoon melted butter
Fillings and toppings of your choice
Instructions
Crepes
Combine flour, salt and sugar in a bowl, whisk to combine.
Make a well in the center of the dry ingredients and add the eggs
Start whisking in the center of the bowl, combining a little more of the flour and the eggs in each pass.
When a thick paste has formed, start thinning it out with the milk, adding little by little so you don't get lumps.
When all the milk is added, let the batter rest for about an hour.
When ready to use, add the melted butter.
Heat a small skillet over medium high heat and add enough butter to coat it. Ladle in enough crepe batter to coat the bottom of the skillet. Cook until the bottom is set and slightly golden. Flip with spatula or your fingers, cook the other side until set.
Place on wax paper until ready to fill.
Fill with any of your choice of sweet or savory fillings.
Rosemary's spinach filling is prepared as follows:
"Sautee one large shallot and one cup of mushrooms, roughly chopped, in 3 tablespoons of butter. When lightly cooked, not brown, add a package of raw spinach,. Looks like a lot, but it shrinks to almost nothing. Add salt, pepper, and fresh grated nutmeg to taste (I like a lot of nutmeg). Grate some Gruyere or Parmesan cheese into the mixture....about ¼ cup. As the spinach cooks down remove it from heat so as not to overcook it. Remember to go light on the salt when adding cheese, which can bring too much salt to your dish. You can always add some later to taste.This mixture will be fine in your refridge for 2-3 days until you are ready. Happy Crepe-ing."