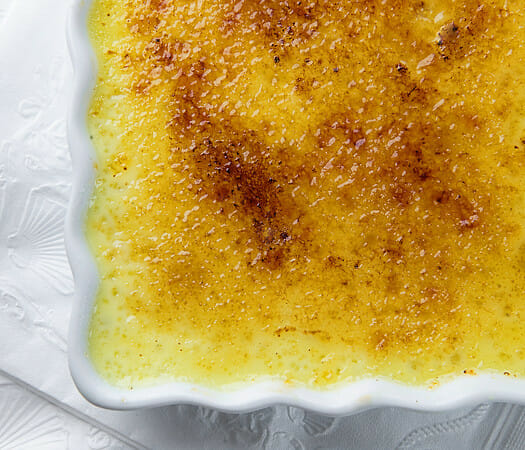 2 cups heavy cream
1 teaspoon vanilla
⅓ cup sugar
4 egg yolks
1. Combine egg yolks and half of the sugar in a bowl and set aside.
2. Put cream, vanilla and the other half of the sugar in a saucepan and bring to a boil.
3. Pour a little of the cream mixture into the eggs and stir to combine. Then add the remaining cream mixture to the eggs and stir thoroughly.
4. Strain the mixture through a cloth or fine strainer into a bowl.
5. Place single serving ramekin dishes into a baking pan. Divide creme brulee custard among the ramekins.
6. Fill the pan with enough water to reach halfway up the sides of the ramekins.
7. Bake at 250 for about 40 minutes or until set.
8. Chill in refrigerator.
9. When ready to serve, spread a thin layer of brown sugar on top and either broil or use a propane torch to melt the sugar.